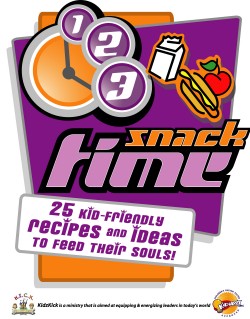 Creative Ministry Group: 1...2...3... Snack Time! Download
25 Kid-Friendly Recipes & Ideas to Feed Their Souls
Say goodbye to pre-packaged snacks and hello to classroom cooking! Transform food into snacks right in front of your kids' eyes! Cooking transforms food. Once food is transformed it doesn't return to its original state! God wants all our lives to be transformed in the same manner.

This book will help you become a chef and feed your kids scrumptious food for their souls and stomachs! Food is something kids love…….something they can smell, touch, feel and see… something they can make a mess with, play with and EAT!

1...2...3...Snack Time is full of recipes, bible stories, and applications, tips, jokes, and trivia. Pick up your copy today and let the cooking begin!

This download resource is available instantly after purchase by clicking on My Downloads at the top of any page.
---
Related Products