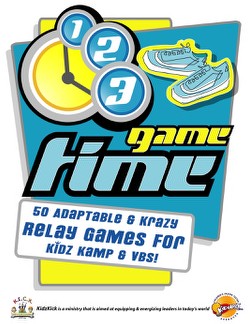 Creative Ministry Group: 1...2...3... Game Time! Download
50 Outrageously Krazy Relay Games for Kidz Kamps, VBS, or Whenever!
1...2...3... Game Time!
is a guidebook designed to introduce 50 outrageously wild, fun, and crazy relay games revolving around three camp themes. These games can be used to plan camps, VBS, day camps, picnics, and family ministry. They are all field-tested and designed to involve kids as well as adults. When kids see adults participating, getting wet, messy & crazy, a bridge is built between the kids and adults. Relay games also help build team spirit as they learn to work together and develop trust. Get your copy today and let the games begin!
Delivery of your purchase will be via a secure download link sent by e-mail shortly after purchase. Links expire 7 days after purchase.

Prefer your 1...2...3... Game Time! guidebook pre-printed?


---
Related Products