Categories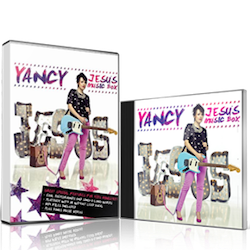 More Details ›
Yancy Jesus Music Box DVD and CD Combo
Singalong fun for Preschoolers by Yancy and friends
Yancy
has a new chapter in her musical story to tell.
Jesus Music Box
is all about making Jesus loud through your life and through your worship. Too many people in this world, Christian or not, shy away from proclaiming Jesus in their life. These songs will inspire the listener to stand up, be bold and shine the light of Jesus in every part of their life. The music is rocking and fun and all about Jesus. The target audience is preteens but whole families will love these songs.
Both CD and DVD includes live lyric videos (motion graphics with moving song lyrics) for all 12 songs with original versions, soundtracks and mpeg files plus bonus features. Songs are:
Not Ashamed
Better Than the Best Thing
All Things
You Are Everything
Evidence of You
Our God
Always With Us
When We Pray
Be Careful
As Long As I Live
Forever
Today & Always
Our God Reigns.
The Church Performance DVD includes soundtracks and mpeg/mp4 video files for use with your presentation software.
With this CD/DVD combo, Yancy's music is perfect for worship fun at church, home or car.
Click
here
for sample video, lyrics and more info.
---
Related Products