Categories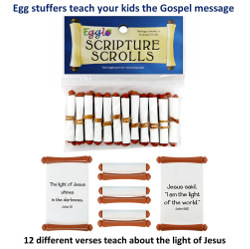 Egglo Scripture Scroll (4 Packs of 12)
Get four packs for the price of three
Egglo Scripture Scrolls will put a smile on your kids face.
Egglo Scripture Scrolls are a super fun way for kids to learn Scripture! Kids LOVE to unroll these cute little scrolls to reveal secret scripture messages.
KIDS LOVE THEIR LITTLE SIZE! Little scrolls with little verses appeal to little hands.
Perfect to pair with Egglo Glow in the Dark Easter Eggs
Created for the glow-in-the-dark Egglo Egg Hunt Kit that teaches kids about the light of Jesus. They keep Easter activities centered on Jesus. Each pack contains 12 scrolls and 12 different Bible verses about Jesus, the light of the world. Egglo Scripture Scrolls help your children hold God's word in their heart.
GUARANTEED FUN ANYTIME:
* Easter egg stuffers * Family dinner table fun * Fun gifts or favors * Lunchbox surprises * Sunday school prizes • Craft accessories • Stocking stuffers * Valentine's cards or treats * Thanksgiving table decor * Jesus' light on Halloween

View the entire line of Egglo Products available on Kidology!
---
Related Products