Categories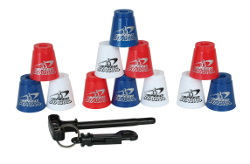 More Details ›
Speed Stacks Mini's
Stack fast... on the go!
We packed all the fun of full size Speed Stacks into the new Minis!
Mini Speed Stacks
are available as a Rainbow pack and come with their own stem.
With Minis, kids can develop a unique finesse, speed and confidence that sharpens their fine motor skills and sequencing abilities while also giving them important skills that are transferable to competition Sport Stacking.
Dimensions: Each cup is 1.5" tall and a set in bag is 7 1/2".
Speedstacks ship within U.S. and to Canada only.
Please allow three days processing before your item is shipped.
Learn more
about Sport Stacking and view our full line of Speed Stacks products.
---
Related Products