Categories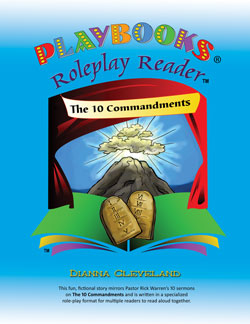 More Details ›
Roleplay Readers® The 10 Commandments Playbook® (set of 6)
For Families, Small or Large Groups
In this fun and entertaining fictional story, five characters encounter each other as they show up first in line for a big event. Several agree that what or who, they are waiting for is extremely important and definitely on their "Top 10" list in life. When reminded of God's Top 10 –
The 10 Commandments
, they realize they could be breaking two of the commandments just by being there. What follows is a riveting discussion and interpretation of the 10 most important laws of the Bible. Together they explore and interpret each commandment and learn a fun mnemonic to help them remember them. Available with a stitched or spiral binding.
Also available in
sets of 25, 30 or 35
. Perfect for the classroom!
---
Related Products