Categories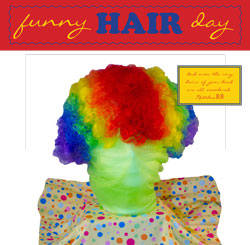 More Details ›
Childrens Church Stuff Funny Hair Day Extreme Party Plan (Download)
From decorating ideas, games, skits, and fun to snacks, hand outs and memory verse ideas you get it all. Oh my goodness you'll have fun. The kids are so creative when it comes to decorating themselves for this party. Have a camera ready!
Funny Hair Day
theme verse: Matthew 10:30 - He cares so much for you even the hairs of your head are numbered. It's just an easy thing for Him because He knows us so well.
Also Included: A preschool adaptation so it is good for your whole department!
Click here
for a list of what is included in this party plan.
Delivery of your party plan will be via a secure download link sent by e-mail shortly after purchase. Links expire 7 days from date of purchase.
---
Related Products