Categories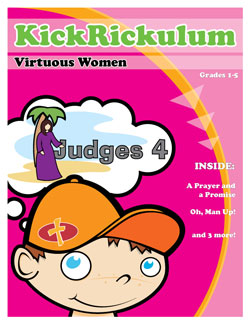 More Details ›
KICKRiCKulum Virtuous Women of the Bible Kids' Church Curriculum (Elementary Download)
Meet Four Virtuous Bible Women Who Faithfully Served God
The PACKED OUT Kickrickulum Virtuous Women curriculum contains five lessons for elementary (1-5th grade) children. Scripture comes alive with hands on presentations and easy to follow visible object lessons. Other features include Power Points, lesson reinforcing breakout activities and interplay between teacher, student, and special characters. Children stay captivated and involved without the need for extensive staging or props. Written for new or experienced teachers, this curriculum has a creative and varied approach which targets different learning styles.
Every KICKrickulum download is
Packed Out
! Each contains Power Points and lessons in both Word format and PDF. Bible Object lessons and other visuals are used throughout the lessons.
Click here
for more details and lesson samples.
Delivery of your KICKRICKulum curriculum will be via a secure download link sent by e-mail shortly after purchase. Links expire 7 days after purchase.
---
Related Products