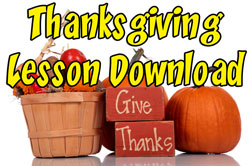 More Details ›
High Voltage Kids Ministry Give Thanks Curriculum Download
Perfect for Thanksgiving Weekend
This is a perfect lesson for the Thanksgiving Weekend.
This lesson includes the following:
THANKSGIVING TURKEY COUNTDOWN: a five minute countdown video to play before service
LESSON INTRO VIDEO: Ashton talks about the importance of Thanksgiving
CHARACTER SKIT: complete comedy script featuring Wacky Wally
POWER POINT GAME: Thanksgiving Trivia Game where kids test their knowledge about the Thanksgiving
ILLUSTRATED MESSAGE: full lesson GIVE THANKS teaches kids about living a life of gratitude to God; includes object lesson and graphic illustrations for the Bible Story - story of the Ten Lepers
POWERPOINT SLIDES: graphic slides to enhance every part of the service
REVIEW QUESTIONS: see how much the kids learned
Since this is a one lesson curriculum, we are unable to provide a sample lesson. However, you can view a sample video,
click here.
This download resource is available instantly after purchase by clicking on My Downloads at the top of any page.
---
Related Products