Categories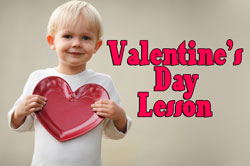 More Details ›
High Voltage Kids Ministry Valentine's Day Curriculum Download
Valentine's Day
Curriculum Download
This lesson is perfect for the weekend of
Valentine's Day
. This is a lesson that teaches the children all about REAL LOVE. If we love God, then we will also show LOVE to others. If we do not LOVE others, then the Bible says that we don't really LOVE God.
Join Max Montgomery, Boffo, and Missy S. Nob on "The TEN Show" as Missy discovers what LOVE is all about.
Includes:
Intro Video (mpg-1 video), Power Verse Video (mpg-1 video, Character Skit,Family Devotion, Looking For Love (game), Illustrated Message with object lessons, PowerPoint graphics for entire lesson.
Since this is a one lesson curriculum, we are unable to provide a sample lesson. However, you can view a sample video
here.
Delivery of your Curriculum will be via a secure download link sent by e-mail shortly after purchase. Links expire 7 days after purchase.
---
Related Products