Categories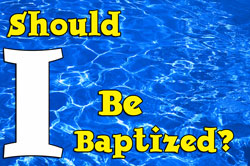 More Details ›
High Voltage Kids Ministries Should I Be Baptized Curriculum Download
Should I Be Baptized
Curriculum Download
Teach your kids about WATER BAPTISM in this downloadable lesson that features videos, game, PowerPoint slides, skit, object lesson and MORE!
Join Isaiah as he discovers the importance of being baptized in water. It is an important step in the life of a follower of Jesus. It's not going for a swim in front of the church - it is a way to show everyone that God has changed our lives!
Since this is a one lesson curriculum, we are unable to provide a sample lesson. However, you can view a sample video
here.
This download resource is available instantly after purchase by clicking on My Downloads at the top of any page.
---
Related Products