Categories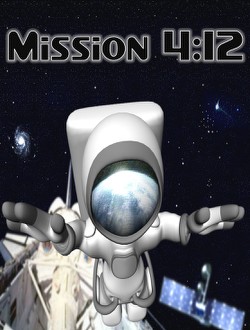 More Details ›
River's Edge Mission 4:12 Kids Church Curriculum Download
Learn how to lead by example, using a Space Camp theme
Mission 4:12
, a five-lesson series based on 1 Timothy 4:12, teaches children how they can lead by example. Using a fun space camp theme, this curriculum teaches kids how to dream of being more than they could ever imagine. Kids will learn that right now, at their age, they can make a difference in the world through their speech, actions, love, faith, and purity.
While working in the Space Lab, listening to the Alien Report, going through Astronaut Training, eating astronaut food and observing Biblical heroes, children will learn ways that they can lead by example.
The main lesson is one hour. With the addition of optional rotation labs, each lesson can be up to three hours long. If you choose to do everything suggested, your class time will last even longer!
The curriculum includes PowerPoints and lesson plans in pdf format, as well as many activities relating to the space lab activities. It can be used in various ways: weekly children's church, camps, outreach, and VBS.
Click here
for a list of lessons, and samples.
This download resource is available instantly after purchase by clicking on My Downloads at the top of any page.
---
Related Products