Categories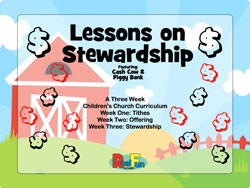 More Details ›
RealFun Lessons on Stewardship CD-ROM Curriculum
Three Week Series on Stewardship
Every year many of our adult services offer a series on stewardship. So many times we fail to communicate these important truths to our children in ways that are fun and in ways that they can remember. In this stewardship series, there will be many ways that you as a children's ministry leader will be able to teach these truths. Offering a hilarious video each week this series on stewardship is sure to make the children in your children's church smile.
This product only ships within the continental US.
Prefer your curriculum via download
?
---
Related Products