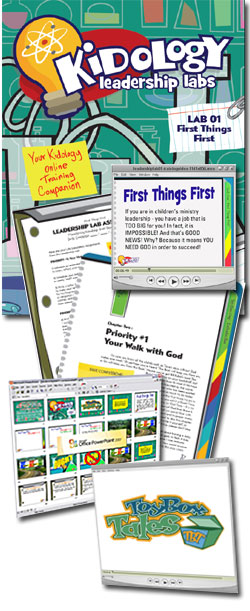 Kidology Leadership Lab Download Kit: #1 - First Things First
Online Training on your schedule!
Kidology
Leadership Labs
are designed to equip and encourage you with a topical approach to the issues you need to address as a leader in children's ministry.
Learn more!
Each
Leadership Lab Download Kit
compliments the online training videos available on Kidology, providing additional study material. This
Lab
includes:
Topically-related, build-as-you-go chapters from The Kidology Handbook - Leader's Edition (23-page PDF)
QuickTime video of the entire training session (33 min.)
QuickTime video of ToyBox Tale #100: "A Day in the Life of a Children's Pastor" (6 min.)
Customizable PowerPoint presentation for training others (60 slides)
Leadership Lab #1: First Things First
Watch Video
This foundational
Leadership Lab
looks at why the most important aspects of ministry have nothing to do with ministry. Put first things first and you will not just survive in children's ministry, you will thrive. This
Lab
has the potential to change your life! Don't just listen - open your heart and mind to what God may be trying to show you through this training.
Delivery of your Download Kit will be via a secure download link sent by e-mail shortly after purchase. Links expire 7 days after purchase.
---
Related Products