Categories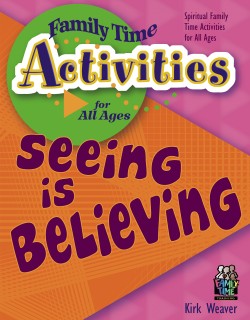 More Details ›
Family Time Activities Book: Seeing is Believing
by Kirk Weaver, from the National Center for Biblical Parenting
Family Time Activities Books
by Kirk Weaver teach spiritual truths to your kids in fun ways. Each book in this series outlines step-by-step instructions and tips for making your family's devotional times fun, engaging, and exciting. The lessons are easy to follow with activities, science experiments, and object lessons that use simple household objects to leave a profound impact on your kids. All lessons are based in scripture and have an easy-to-memorize theme.
Seeing is Believing:
It's time to show your kids the truths you want them to understand. Object lessons and science experiments help children learn about God's promises, the Holy Spirit, and even how sin can entrap us. Use simple household objects like a jar, string, and a hair dryer to illustrate the power of peer pressure. Enjoy twenty-one lessons filled with fun, biblical truth. Make Family Time a regular part of your family's spiritual growth. This book is great for children of all ages.
Also available for all ages:
Playing for Keeps
Running the Race
Available for preschoolers:
Bubbles, Balloons and Chocolate
Wiggles, Giggles and Popcorn
Available for Teens:
Tried and True
View a sample lesson here.
---
Related Products