Kidmin Talk #096 - June 1st, 2017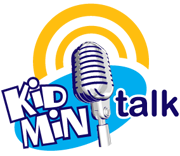 Duration: 00:48:51
Download MP3
How to Gain, Train and Retain Volunteers
Welcome to the 96th episode of Kidmin Talk, the webcast show hosted by Karl Bastian, the Kidologist. Listen here on Kidology or subscribe via iTunes to listen on-the-go with your iPhone, iPod, iPad, or other mobile devices.
On this episode of Kidmin Talk, Karl Bastian, founder of Kidology.org, is joined by Stanley Mearse, a veteran children's pastor and frequent creative consultant to Karl and contributor to Kidology products. Stanley is super creative and has some great insights on how to Gain, Train and Retain volunteers!
SPONSOR: This episode is sponsored by 10 - 7 -3 -1

Karl continues his new format for Kidmin Talk featuring conversations with Kidmin leaders. This episode features Stanley Mearse as he explains how to gain, train, and retain volunteers in YOUR ministry.
MENTIONED ON THE SHOW TODAY:
WATCH THE PODCAST:
CONNECTING w/ KIDMIN TALK:

Discuss this episode of Kidmin Talk in the Kidology Facebook Group