Child Safety Zone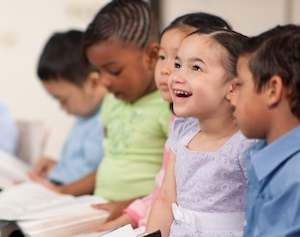 Whether the senior pastor of a church, a children's ministry director, a volunteer, or a parent of young children, we all have a role to play in keeping our children safe.

Kidology can help you to protect the kids and build healthy family ministries at your church. Browse the articles below to find ideas on how to create a safe environment for all the little ones.

For Secure Children's Check-In, check out KidCheck! And All Access Members save 10% on their new membership to KidCheck!
‹ Back to Zones
Guest

›
Starter

›
All Access
Level
Title
Topic
Checkin Social Distance Footprints

Here are some fun signs you can laminate and place on the floor to help people spread out for check-in.

Covid-19 Reopen Resource
Creating an Anti-Bullying Program: The Components

By including bullying prevention, your organization will foster an environment that encourages transparency, prioritizes communication, and empowers kids and youth to respect and support each other.

Bullying
Creating an Anti-Bullying Program: The Framework

By including bullying prevention, your organization will foster an environment that encourages transparency, prioritizes communication, and empowers kids and youth to respect and support each other.

Bullying
Creating an Anti-Bullying Program: The Implementation

By including bullying prevention, your organization will foster an environment that encourages transparency, prioritizes communication, and empowers kids and youth to respect and support each other.

Bullying
National Child Abuse Prevention Month

April is National Child Abuse Prevention Month. There are several new tools and resources to engage your community and continue to highlight the benefits of preventing child abuse and neglect.

Child Abuse Prevention
Safety Tips for Back-to-School Season

Ensure the safety of your kids as they return to school.

Child Safety, Back to School
Welcome Back Signs

Just some fun friendly signs you can use to welcome folks back to church!

Covid-19 Reopen Resource
Now or Later?

A fun (and yummy) lesson introduction that helps kids learn about delayed gratification.

Delayed Gratification!
Safe and Secure Training Video

A Child Security Training Video for use in Your Ministry.

Child Security
Safe and Secure Training Video Promo

A Child Security Training Video for use in Your Ministry.

Child Security Training Video
Do You Need Photo Permission Slips for Your Kids Ministry?

It is a common children's ministry myth that you need a media release for pictures to be taken of kids in your ministry. This comes up often in social media conversations, so Karl answers this question here.

Media Releases
7 Basic Precautions for Children's Ministry

Important steps you need to take in your ministry to keep you, your volunteers and your kids safe.

Saftey, Security
7 Things to Remember When a Parent Expresses a Concern

7 tips to consider when addressing concerns in your ministry.

Safety, Communication, Parental Concerns
7 Ways to Welcome Guests for the Holidays

How you welcome your holiday guests is a powerful tool in your arsenal of customer service offerings. Keep in mind: you never get a second chance to make a first impression.

Welcome, Guests, Holidays
Addressing Allergies in Your Children's Ministry

Implementing a plan to address children's allergy issues is essential. Part of successfully planning to keep the children in your care safe includes having accurate information, using that information effectively, and utilizing a system to easily communicate with parents.

Allergies
Allergy Advice

How to keep children with allergies safe while in your care.

Allergies
An alternative to electronic check in

Can't afford an electronic check in system? Maybe your kid's ministry is still growing and doesn't justify the investment yet. Here is a solution that worked well for one church.

Check In, Safety
Annual Child Safety Survey

It's a good idea to run an annual child safety survey in your church.

Child Safety Survey
Assessing Child Safety - Now is the time!

As families begin to return, there may be levels of uncertainty as they work to find a new rhythm of re-engaging after isolation. Nevertheless, the one constant that will be top of mind is child safety. Here are points to consider when assessing your safety plan

Child Safety, Reopening Churches
Child Protection Policy Defined

The best way to prevent abuse is to plan ahead. This is the first post in a three part series from KidCheck on the essential elements of designing and implementing an effective Child Protection Policy.

Child Protection Policy
Child Safety Tips for VBS

Whether you're setting goals, preparing budgets, or creating a promotional plan for VBS, one fact remains the same…child safety should be at the top of your mind. KidCheck shares six timely tips to keep safety a top priority and a crucial part of a successful VBS event.

Child Safety, VBS
Communicating Your Child Safety Plan to Families

If you have a solid child safety plan, a good protection policy, and all the right guidelines in place, how to let new families and existing ones know about your efforts to keeps kids safe? Here are 5 tips to get started.

Communicate Safety Plans and Policies with Familes
Comprehensive Candidate Screening Part 1 - The Written Application

A comprehensive screening process includes several steps, with the written application laying the foundation. Learn more on what it is and why it is important.

Background Checks - Volunteer Screening
Comprehensive Candidate Screening Part 2 - The Background Check

Learn why background checks are an important piece of the overall safety puzzle, how they work, what to look for in a service provider, and the information not included.

Background Checks
Comprehensive Candidate Screening Part 3 - The Social Media Check

Let's explore the benefits and some of the ethical and legal considerations when using a social media background check as part of a comprehensive candidate screen.

Background Checks - Social Media
Comprehensive Candidate Screening Part 4 - Personal References

References often bubble up need-to-know information about the character, commitment, and a person's history of working with children.

Background Checks - References
Comprehensive Candidate Screening Part 5 - The Interview

Having a face-to-face discussion yields valuable information and allows a candidate to be reviewed from different angles.

Background Checks - The Interview
Comprehensive Candidate Screening Part 6&7 - Motor Vehicle Report and Waiting Period

The final step in the candidate screening process: motor vehicle check and waiting period.

Background Checks
Emergency Evacuation Procedures

"By failing to prepare, you are preparing to fail." Emergencies can happen at any time. The worst time to prepare for an emergency is during one. Here are some points to consider implementing and some tips to help you be successful.

Emergency Evacuation
Emotional Concussions

Emotional concussions can be just as lethal, and sometimes even more so, than a physical concussion

Divorce, Emotions
Five Back to School Safety Fundamentals

Read these tips on how to protect you and your kids as they go back to school.

Back to School
Five Ways to Participate in National Child Abuse Prevention Month

What can you do to help with child abuse prevention?

Child Safety and Security
Five Ways to Save Money When Improving Child Safety

Five Ways to Save Money When Improving Child Safety

Child Safety, Saving Money
Gaining Leadership Support for Child Safety - Part 1

Learn about the steps to take to help get leadership support to improve child safety in your organization.

Improving Child Safety
Gaining Leadership Support for Child Safety - Part 2

Information to help you find champions to support your child safety strategy and tips on how to be prepared and present it.

Improving Child Safety
How to Deal with Difficult Kids

Parents need you to partner with them in discipling their kids.

Behavior
How to Talk to Your Kids About Scary Events in the News

Mr. Rogers gives great advice on how to talk to kids about scary events in the news.

Communication, Parenting, Fear
Improving Child Safety - A New Approach
Child Safety
Improving Child Safety in Your Organization

Keeping your kids safe should be a top priority! Here is a child safety video and guide from Kidcheck to help you care for your children.

Child Safety
Keep Calm and VBS On!

Tips for Creating a Staffing Plan and Choosing Volunteers Wisely

VBS
KidCheck Series Part 1: Reducing the Risk of Juvenile Offenses in Children's Ministry

The "Reducing the Risk of Juvenile Offenses in Children's Ministry" is a 3 part series that discusses the nature of juvenile offenses, shares details on profiles of those that offend, and highlights the elements of having a youth safety plan that's an extension of your child protection policy.

Child Safety
KidCheck Series Part 2: Reducing the Risk of Juvenile Offenses in Children's Ministry

This is the second in a series of three "Reducing the Risk of Juvenile Offenses in Children's Ministry" posts focusing on the nature of juvenile offenses and commonalities in profile of those who offend. We'll also share the importance of creating awareness and having a youth safety plan.

Child Safety
KidCheck Series Part 3: Reducing the Risk of Juvenile Offenses in Children's Ministry

Thanks for joining us for the third and final post in our "Reducing the Risk of Juvenile Offenses in Children's Ministry" series. In Part 3, we'll share some key elements of the youth safety plan, including details on how to properly screen volunteers, the steps to take when managing an incident, ways to include those in your ministry who have past offenses, and as a final point, we'll sum up the top action steps you can take immediately to reduce offenses in children's ministry.

Abuse Prevention
Leadership Conversations to Improve Child Safety

Have you ever tried to continue working to improve child safety in your organization, but lacked the necessary leadership support?

Child Safety, Leadership
Men and Children's Ministry

An logical and necessary discussion for allowing men to serve in children's ministry.

Child Safety, Men in Ministry
Pizza, Pornography and Meeting New People: A Look Inside Our Kids Digital World

Our kids live in a digital age. To say that times have changed since we were kids is a gross understatement. But how are we doing at keeping up with those changes? How can we stay ahead of the digital curve and keep our kids safe?

Online Safety
Predator Proof Your Organization

Keeping Predators Out! It's a big job, but not impossible. Here's a synopsis of the most current and up-to-date child protection information.

Predator Proofing Your Organization
Predator Proofing Your Organization - Webinar Recap Part 1

This 2-part series was designed to provide leaders of child and youth-focused organizations with the most current information on protecting their organizations from predators.

Child Safety and Security
Predator Proofing Your Organization - Webinar Recap Part 2

This 2-part series was designed to provide leaders of child and youth-focused organizations with the most current information on protecting their organizations from predators.

Child Safety and Security
Protecting Girls in a #MeToo World

How do we protect our girls in a sex-saturated culture?

Parenting, Relationships
Showing 1 - 50 of 65 results