Movie Review: Nim's Island
Membership Level› Guest
Author/Source: Glen Woods
Topic: Movie Review
A review of Nim's Island including description of the movie, areas of concern, teachable themes, discussion questions, and scriptures to use.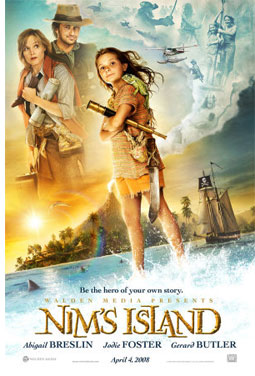 Overview

Nim's Island is a remote and deserted jungle island somewhere in the Pacific Ocean. It is home only to 11-year-old Nim and her father. With an imagination of epic proportions, Nim fills her days with exploits of daring, rivaling those of Alex Rover, the fictional protagonist of the Rover Books, her favorite literary diversion. When Nim's father goes missing on a scientific oceanic excursion, Nim turns to Alexandra, the author of the Rover Books, for help. As the story unfolds, it turns out that Alexandra needs Nim just as much as Nim needs her. The question is: will both can find courage and overcome their respective daunting challenges?

This film is an excursion into blurred storytelling, mixing fantasy, adventure, comedy and drama, with a hint of romance at the end; sort of a mishmash hybrid between Home Alone, elements of Flightplan (mostly because of Jody Foster's attempt to play a character conflicted by psychological duress), and Gilligan's Island. However, it is much more forgettable due to its pervasive one-dimensional characters.

Nim's Island seems to be directed toward younger audiences as it sports an adolescent tone. However it is laced by distinctly mature themes, thereby earning its PG rating. It begins with the distinctive "once upon-a-time" narrative marker, indicating that it is unapologetically a fairytale, at least to some degree, yet not entirely. We are never really quite sure, hence its confusing feel. It concludes with a "happily-ever-after scene" as well. Yet we are hard pressed to care, since we never were given a chance to know the characters as a deeper level.

Nim's Island blends mediocre to downright absurd storytelling with occasional flashes of acting brilliance and comedy relief. Unfortunately, the best acting comes from an unlikely source, the menagerie of animals which have befriended the girl, not least the lizard and the sea lion. They also are the most responsible characters. The adults and children mostly are portrayed variously as self-absorbed, emotionally and mentally unstable, in some cases as cartoonish buffoons, and markedly one-dimensional, as if their presence is ancillary to the point of the story. This is an unfortunate state of affairs since it relegates its one well known veteran actor, Jody Foster, to the shackles of a caricature, rather than unleashing her to portray her character in depth, as she is fully capable. Various other actors in the movie are also quite capable, but they are not allowed to realize their potential. One wonders if this was intentional.On the positive side, father and daughter do have a warm relationship, especially in light of the mother's death at sea previous to our current narrative.

Thus, Nim's Island is unfortunately a study in genuine potential frustratingly unrealized. In the end, the story simply gets lost in the muddied plot points, none of which come to satisfactory fruition. On a scale of A to F, I give the movie a C-, because the animals really do provide worthwhile entertainment. Yet, the story is so deliberately lost in the muddle of its telling, that I gave up feeling any suspense at the impending outcome, except that the credits should roll as soon as possible.


Concerns

The movie takes for granted that it is OK to leave 11-year-olds at home alone while dad embarks on a scientific excursion, which eventually would imperil his life, were it not for the intervention of the nearly sentient goose. Further, it assumes that it is OK for an 11-year-old girl to contact via the Internet what she thought was an adult male author of her favorite series of fiction adventure books, later even pleading with him via e-mail to come rescue her when she realizes her tardy father might be in trouble and that she, in fact, is hurt from a fall.

Further complicating this concern is the fact that the writer is actually a female adult who experiences an ongoing state of mental delusions in the form of an imaginary alter-ego and fear of the outdoors and other people. While she is said to have severe fibromyalgia, the portrayal goes far beyond that. Although I doubt this was the intent, it seemed to highlight the risks of children contacting strangers on the Internet. Yet, when the stranger, Nim, and her dad meet, they quickly fall in love and become a family. This points out the unrealistic idealism of the movie which takes for granted easy solutions to complex issues, namely that the author should suddenly overcome her difficulty with being around other people to the extent that she can hold hands with a strange man on a deserted island as his daughter and assorted animals cavort on the beach.

There are scenes of psychological duress portrayed by Jody Foster which might be disturbing for younger children. Also, there are scenes of peril on the island when Nim inadvertently sets off a volcanic eruption and landslide which place a large number of tourists, not to mention herself, in jeopardy. Most people will find this almost comedic because the impression is conveyed as an emotional subtext, both here and in other parts of the movie, that there never is any real danger. After all, it is a "once upon a time" fairytale. But again, young children might be frightened.


Teachable Themes
We All Have Something to Offer
When the dad is lost at sea and the girl is alone and hurt, and her one would-be helper is equally lost in her own private world of confusion and isolation, there is still hope when they come to rely on each other. Despite my concerns stated above, there is something to be said for people helping each other out in compassionate and appropriate ways. Even broken people have something to offer others, which is encouraging since all of us, in some respect, experience the brokenness of our own humanity.


Reconnecting with God's Creation
Nim's imagination soars in her simple world of island isolation and adventure reading. The author broke out of her isolated world of computers and writing to go rescue Nim, thus exposing her to a whole world she had previously only dreamed about, but now experienced first hand. We could do far worse than to disconnect for a time from the plural demands of technological connectedness so that we have opportunity to explore God's natural wonders. By taking opportunity to reconnect with God's creation, we are reacquainted with the visible demonstration of his sustaining, creative power, thus inspiring worship and awe.


Connecting with Each Other
Although much is said in the movie about the independence of heroes and the ability to help oneself, it is notable that in the end, it was only by leaning on each other that the characters overcame the many varied obstacles they faced. Nim was restored to her Dad. The author found family in the Dad and Nim. And Dad possibly realized that he and Nim needed someone else to complete their family, given that his wife and Nim's mom had previously died at sea. As a point of application, it could be said that as we lean on each other in community, we become vulnerable to each other. This provides opportunity to experience the presence of Christ living in us as we live in community.


Biblical References
We All Have Something to Offer:

Galatians 5:13 - "You, my brothers, were called to be free. But do not use your freedom to indulge the sinful nature; rather, serve one another in love."


Hebrews 10:24 - "And let us consider how we may spur one another on toward love and good deeds."


Acts 2:44-45 - "All the believers were together and had everything in common. Selling their possessions and goods, they gave to anyone as he had need."


Acts 10:2 - "He and all his family were devout and God-fearing; he gave generously to those in need and prayed to God regularly."



Reconnecting with God's Creation:

Psalm 19:1-5 - "The heavens declare the glory of God; the skies proclaim the work of his hands. Day after day they pour forth speech; night after night they display knowledge. There is no speech or language where their voice is not heard. Their voice goes out into all the earth, their words to the ends of the world. In the heavens he has pitched a tent for the sun, which is like a bridegroom coming forth from his pavilion, like a champion rejoicing to run his course."


Isaiah 42:1-12 - "Here is my servant, whom I uphold, my chosen one in whom I delight; I will put my Spirit on him and he will bring justice to the nations. He will not shout or cry out, or raise his voice in the streets. A bruised reed he will not break, and a smoldering wick he will not snuff out. In faithfulness he will bring forth justice; he will not falter or be discouraged till he establishes justice on earth. In his law the islands will put their hope."This is what God the LORD says-- he who created the heavens and stretched them out, who spread out the earth and all that comes out of it, who gives breath to its people, and life to those who walk on it: "I, the LORD, have called you in righteousness; I will take hold of your hand. I will keep you and will make you to be a covenant for the people and a light for the Gentiles, to open eyes that are blind, to free captives from prison and to release from the dungeon those who sit in darkness. "I am the LORD; that is my name! I will not give my glory to another or my praise to idols. See, the former things have taken place, and new things I declare; before they spring into being I announce them to you. "Sing to the LORD a new song, his praise from the ends of the earth, you who go down to the sea, and all that is in it, you islands, and all who live in them. Let the desert and its towns raise their voices; let the settlements where Kedar lives rejoice. Let the people of Sela sing for joy; let them shout from the mountaintops. Let them give glory to the LORD and proclaim his praise in the islands."



Connecting with Each Other:

John 13:34-35 - "A new command I give you: Love one another. As I have loved you, so you must love one another. 35 By this all men will know that you are my disciples, if you love one another. By this all men will know that you are my disciples, if you love one another."


Acts 2:46-47 - "Every day they continued to meet together in the temple courts. They broke bread in their homes and ate together with glad and sincere hearts, praising God and enjoying the favor of all the people. And the Lord added to their number daily those who were being saved."


Romans 12:10 - "Be devoted to one another in brotherly love. Honor one another above yourselves."


Romans 13:8 - "Let no debt remain outstanding, except the continuing debt to love one another, for he who loves his fellowman has fulfilled the law."
Discussion Questions
We All Have Something to Offer:

Do you feel ill at ease in helping others? Why? What are those things that hold you back from extending a helping hand?
What talents lie dormant in your life, waiting to be expressed as a blessing to others?
What is your area of greatest brokenness? Have you taken this to God, giving it to him? How might God use another person to bring healing to your brokenness?
What is one way in which you might take an appropriate risk in going outside your comfort zone to help another person? What is keeping you from doing it now?
Identify a person or family in need in your neighborhood. Find an appropriate way in which to meet some aspect of their need through giving of your time, talent or resources. Are they hungry? Bring them food. Do they need clothing? Give them the best you have, or even take them on a limited shopping trip. Do they need help around their home? Offer your labor and skills. Do they need a friend to listen? Offer your ears to listen and your shoulder to cry on and even your laughter to enjoy their company.



Reconnecting with God's Creation:

When is the last time you went outside after dark, away from city lights, laid down and stared at the stars? Do you remember? What memories does it bring back for you? Did you feel a sense of awe at God's creation and power?
When did you last go on a hike in a wilderness? What did it smell like? What sounds did you notice? What sounds were absent? Were you alone? What feelings did this evoke?
Take a loved one or friend with you to a remote place. Practice being silent for a time together. No technology. No distractions. Just the two or more of you breathing in God's creation as you survey the beauty around you. Then, when it seems appropriate, sing songs of worship together which reflect God's majesty. What feelings does this experience prompt in your heart? Does it feel awkward to do this? If yes, why?



Connecting with Each Other:

Are you connected with others in your life? Or are you disconnected? Do you acknowledge relationships, but barely find time to invest in them? What percentage of your daily life is given to relationships? How does this compare to work? Church? Hobbies?
When is the last time you experienced relational connectedness which was not colored by your ministry leadership role?
When is the last time you felt safe in confessing your sins to another person? What about your fears? Your struggles? If you had a safe place to be in community, what would it look like? (Hint: Consider reading the works of Henri Nouwen for insight on this topic).
If you have not already done so, consider committing yourself and your family to a season of realistic, but challenging intentional community. It may be a few families on your block or in your neighborhood. It might be a few of you who know each other from church and who live relatively close to each other. With oversight from your pastor, form a group for the purpose of intentional spiritual formation and mission. You all have something to offer each other as co-heirs with Christ. Journal the experience. Ask yourself, what keeps you from exploring the depths of Christian community? What keeps people at arms length, rather than in a godly embrace of relational stewardship?

Discuss this movie review
(Kidology Network Forums)