Movie Review: Transformers
Membership Level› Guest
Author/Source: Brett Richmond
Topic: Movie Review
A review of Transformers including a description of the movie, areas of concern, teachable themes, discussion questions, and scriptures to use.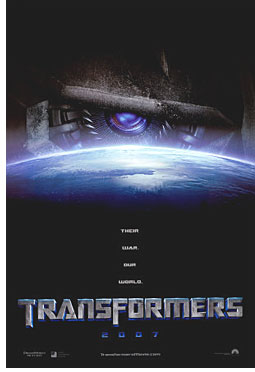 Overview

Transformers takes numerous opportunities to develop the story, plot, and characters. However, for the movie overview I'm going to stick with the main characters... Sam Witwicky, Mikaela, and the giant robots.

The movie opens with a monologue of Optimus Prime telling the story of the creation of the Transformers. He tells of the cube that is the source of all life on Cybertron. A battle between the Autobots and Decepticons ensues and the Cube leaves Cybertron and comes to rest on Earth.


WARNING: SPOILERS AHEAD!
Click to skip spoilers

The first major action scene follows with the first sign and attack of the Decepticons. A Black Hawk helicopter lands, transforms, and attacks an army base in Qatar, seeking to gain access to the defense department mainframe -- which is quickly disabled. This leaves the Decepticon to battle the human soldiers, after which it's believed no soldiers escape alive.

The movie transitions to Sam Witwicky, a high school student, who moves to the front of the class to give an oral report on his great uncle, a famous arctic explorer. After school, he travels with his dad to purchase his first car, a yellow Camero, which ends ups being the Autobot Bumblebee. With his new car, Sam begins his adolescent search for a girlfriend. Sam has his sights set on the football star's girl, Mikaela, who rejects the notion of being the football stars "little bunny". Mikaela ends up being a "gearhead" and a strong female character that ends up being more than just a "gorgeous girl".

The U.S. Government begins the investigation into who attacked the base and how they were able to disable the computer security protocols. During the investigations, another attempt to access the defense systems mainframe is underway by a Decepticon that is disguised as a small boom box. This attempt is partially successful and the Decepticon is able to escape with a single name, Sam Witwicky's great uncle. The search is on for the Decepticons to find Sam and his uncle's antique glasses Sam is selling on eBay.

Meanwhile Sam awakens to what he believes is a someone stealing his car. He follows the car and discovers that it's really some giant robot. In his attempt to escape from the yellow Camero he comes face to face with a police car that quickly turns into a Decepticon, Barricade. Sam flees the evil giant robot, running into Mikaela, with Bumblebee rescuing the two of them. Bumblebee and Barricade come to blows with the Autobot triumphant and reunited with Sam and Mikaela.

Soon the entire Autobot team reunites to protect Sam and Mikaela and retrieve the spectacles that hold the coordinates for the location of the Cube. They all return to Sam's house where they hope to find the glasses only to have Section 7, a secret government agency, come and arrest Sam and his family. The Autobots attempt to rescue Sam but when Section 7 calls in reinforcements, the Autobots are forced to retreat leaving Sam, Bumblebee, and Mikaela to be recaptured. They are taken to Section 7's headquarters, the Hoover Dam, where they discover that the Cube is located along with a frozen Megatron, the leader of the Decepticons.

The Decepticons discover the location of the cube and free Megatron leading up to the climactic battle for control of the Cube.

The final battle takes place in a desert city with the Decepticons versus the Autobots and humans. The Decepticons battle fiercely for the Cube, immobilizing Bumblebee, while Megatron ends up tearing one Autobot in half. Both sides suffer heavy casualties. Megatron appears to have defeated Optimus Prime and has Sam at the tip of his fingers. Sam thrusts the Cube into the chest of Megatron, killing him and ending up as the hero of the battle.

With the Cube destroyed, the Autobots remain on Earth, hiding in plain sight as the movie ends with a monologue from Optimus Prime.

END OF SPOILERS


Concerns

Transformers is rated PG-13 and rightly so. There are numerous battle scenes, although very little blood, many with dying people or robots. There are several profanities, a few sexual innuendos, and one sensual scene where Sam ogles Mikaela, who's wearing very skimpy clothing. There's another scene at the car lot where the car salesman disrespects his "Mammy" who also used an obscene gesture.

One scene in particular seems a little bit out of place as Sam and his mother talk about masturbation, which she deems "OK" and suggests that they can call it "Sam's happy time". The scene really doesn't add to the value of the movie nor is it a particularly redeeming scene. One particularly funny scene has an Autobot "lubricating" on a government agent.


Teachable Themes
More Than Meets The Eye
It's more than just the Transformers greatest tag line, it is also a constant theme through out the movie. One of its most obvious occurrences is when Sam finds out that Mikaela is more than just a pretty face -- she also has a criminal record and her dad is currently on parole for grand theft auto. The discovery of Mikaela's past indiscretions causes Sam to rethink his developing relationship with her. She then tells Sam that she was arrested because she wouldn't turn her dad in. While Sam was really just looking at Mikaela on the surface, he learns that there's really "more than meets the eye" with her.


Courage
The Witwicky family has a motto, "no victory without sacrifice". It's a motto that at the beginning of the movie Sam hadn't quite lived up to. During the final battle, the fate of the Cube is put into Sam's hands with Megatron hot on his tail. Sam makes it to the roof off a nearby building only to be trapped on a ledge by Megatron. While on the ledge Megatron tells Sam to give him the Cube, to which Sam replies, "I'll never give you the Cube". Megatron comments on the high level of courage that Sam has demonstrated and tells Sam that when Megatron takes over the Earth that Sam could be his pet. Sam then chooses to leap off the tall building where Optimus Prime saves him on the way down. This moment is the culmination of Sam's journey toward courage and living out the Witwicky motto.


Girl Power
From the moment Mikaela comes on the screen you can tell that she's not a polished, pretty girl. She has an edge to her. When her football star boyfriend refers to her as his "little bunny", she chooses to walk 10 miles rather than ride home with him. Sam picks Mikaela up on the way home and the car has a mysterious problem and stops running. She asks Sam to pop the hood where she rattles off some car aficionado jargon. When Sam comments on her knowledge of cars Mikaela responds with, "most guys don't like their girlfriends knowing more about cars than they do." Throughout the movie, Mikaela flexes her muscles and maintains her strong demeanor, not allowing anyone to talk down to her or to demean her.


Biblical References
More Than Meets The Eye:

1 Samuel 16:7 - But the LORD said to Samuel, "Don't judge by his appearance or height, for I have rejected him. The LORD doesn't see things the way you see them. People judge by outward appearance, but the LORD looks at the heart." (NLT)


1 Samuel 17:42-43 - "When the Philistine looked and saw David, he disdained him; for he was but a youth, and ruddy, with a handsome appearance. The Philistine said to David, "Am I a dog, that you come to me with sticks?" And the Philistine cursed David by his gods." (NASB)


Mathew 16:13-15 - "When Jesus came to the region of Caesarea Philippi, he asked his disciples, "Who do people say that the Son of Man is?" "Well," they replied, "some say John the Baptist, some say Elijah, and others say Jeremiah or one of the other prophets." Then he asked them, "But who do you say I am?"" (NLT)



Courage:

Deuteronomy 31:6 - "So be strong and courageous! Do not be afraid and do not panic before them. For the LORD your God will personally go ahead of you. He will neither fail you nor abandon you." (NLT)


Matthew 14:27 - "But Jesus immediately said to them: "Take courage! It is I. Don't be afraid." (TNIV)


1 Corinthians 16:13 - "Be on your guard; stand firm in the faith; be men of courage; be strong." (NIV)



Girl Power:

Esther 2:7 - "Mordecai had a cousin named Hadassah, whom he had brought up because she had neither father nor mother. This girl, who was also known as Esther, was lovely in form and features, and Mordecai had taken her as his own daughter when her father and mother died." (NIV)


Esther 7:3-4 - "Then Queen Esther answered, "If I have found favor with you, O king, and if it pleases your majesty, grant me my life—this is my petition. And spare my people—this is my request. For I and my people have been sold for destruction and slaughter and annihilation. If we had merely been sold as male and female slaves, I would have kept quiet, because no such distress would justify disturbing the king." (NIV)
Discussion Questions
More Than Meets The Eye:

When was the last time you made an assumption (judgment) about something and it ended up being wrong?
Has someone ever made a judgment about you that was wrong? How did it make you feel?
Is your perception of God different from what the Bible says about God?



Courage:

When has it been hard for you to be courageous?
Have you ever felt that God gave you courage when you were scared?
What is the scariest thing that God has rescued you from?



Girl Power:

Do you ever feel like people just look at your outside rather than your inside?
How is Esther strong in spirit? How can you be that strong?
Do you think it's more important for people to think you are strong on the inside or "pretty" on the outside? Why?