How to Partner with Parents
Membership Level› Guest
Author/Source: Sam Luce
Topic: Partnering with Parents
Suggestions for how you can be prepared to partner with parents.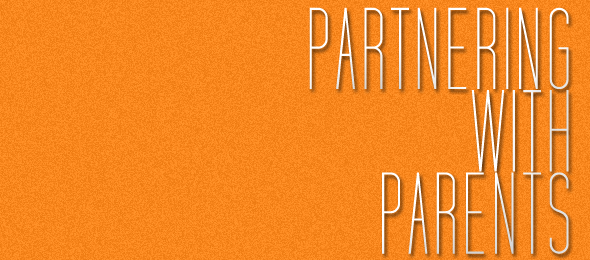 In the kids ministry world, the idea of partnering with parents is definitely mainstream. Most people are talking about why this is important. We need to be having this conversation. The more we talk about partnering with parents it reminds us of our primary job to lead and guide, not to parent the kids in our ministry. This is so important. We are here to train and equip parents to more effectively lead their homes.
One of the things I often wrestle with personally is how do I take my understanding that I need to partner with parents and translate that into action. It's so easy for me to nod my head at conferences and tweet things that say partnering with parents is important, but how does that become a reality and not just a good idea. I would say the answer is small first steps.
I have tried classes for parents, small groups for parents, intentional baby dedication and baptisms; all of these have been successful to some extent but all of them have had limited success. I was having a conversation with a dad of a three-year old at our fall festival. He is already thinking about how he can have intentional conversations about sex with his son in the coming years, but doesn't know where to start. We live in such a resource rich age: curriculum companies provide amazing tools, there have never been more books, blog posts and articles than ever before. So what's the problem?
Parents need easy first steps and clear next steps. They are busy; the world is noisy; so it is our job as those who pastor families to not add to the noise but bring clarity in the midst of the storm. One of the things that always amazes me about the story of Jesus asleep on the boat in the middle of the storm was he didn't wake up and tell the disciples how to sail better. He woke up and spoke to the storm. It can be very easy and very tempting for us as pastors to tell parents how to sail better and more effectively when really they need God to speak to their storm. Peace; be still. One way we can do that is to have easy first steps and clear next steps. This is something I am excited about working on for the families in our church. Here are some of the questions that create storms in families that we are going to try to create simplicity and clarity around.
How do I talk to my kids about sex?
What is the gospel?
Why do bad things happen?
How do I do devotions with my family?
What is a Catechism?
Why do kids need systematic theology?
What bible should my kids read?
What devotion books should we use?
Parents want to do the right next thing but don't know what to do. We can't force them to want to know what to do, but we can be prepared for when parents reach out. Have a plan for a simple first step and a clear next step.