The Archive Zone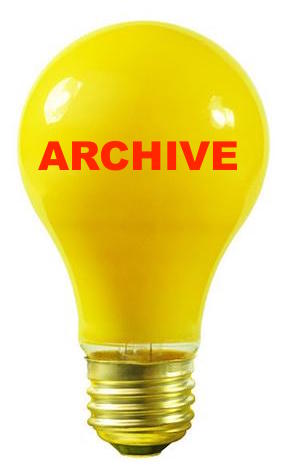 Bright Ideas Never Fade... but like an old light bulb, they may get replaced with newer ones.
This Zone contains Zone Posts that have been around awhile, but still contain some good content.
They may have been removed from their former zone due to being a bit out-dated, or the original Zone may have been retired - but we'd like them to still be available if searched, so they are archived here.

Please note that some links or content within these posts may be out-dated or no longer exist.
 
‹ Back to Zones
Guest

›
Starter

›
All Access
Level
Title
Topic
Order of the Ancient - Chapter 1

Introduction and Chapter 1 of Order of the Ancient, a novel written by Karl Bastian, the Kidologist.

Novel for Kids
Kidology Spotlight Ministry Resource: DiscipleLand

Kidology takes a look at DiscipleLand curriculum in this Kidology Spotlight Ministry Resource, a ministry we believe deserves a closer look by leaders in the children's ministry marketplace.

Curriculum
Go Fish Praise VBS Review

Review of an all new VBS curriculum called Go Fish Praise.

Review
Kidology Spotlight Ministry Resource: God Rocks!

Kidology takes a look at God Rocks! and their Starlight Rescue VBS in this Kidology Spotlight Ministry Resource, a ministry we believe deserves a closer look by leaders in the children's ministry marketplace.

Curriculum, VBS
Kidology Report - April 2015

How Do You Measure Success; Under New Management; Making Memories; and MORE!

Professional Periodical for CM Leaders
Kidology Report - March 2015

A Chef of God's Word? Yes!; Communication When No One Reads; A Spiritual Alphabet; and MORE!

Professional Periodical for CM Leaders
Kidology Report - February 2015

I Love You, But I Like You Too; When Senior Leadership is Indifferent; Making Kids Feel Loved; and MORE!

Professional Periodical for CM Leaders
Kidology Report - January 2015

Why Minister to Children; The Proactive Leader; Sacred vs. Silly; and MORE!

Professional Periodical for CM Leaders
Kidology Report - December 2014

He Came as a Child; The Art of Restart; Shepherd or Sheep Herder; and MORE!

Professional Periodical for CM Leaders
Kidology Report - November 2014

Saying T.H.A.N.K.S.; Beyond the Classroom; Control vs. Chaos; and MORE!

Professional Periodical for CM Leaders
Kidology Report - October 2014

Pioneering the Internet; Responding to Personal Criticism; Making Your Class F.U.N.; and MORE!

Professional Periodical for CM Leaders
Kidology Report - September 2014

Starting Over; Say N.O. to Stress; Connecting with Kids; and MORE!

Professional Periodical for CM Leaders
Kidology Report: Looking Ahead - Trends in Children's Ministry

The Kidology Report tackles the "Top 10 Trends in Children's Ministry" that will impact your ministry in the years ahead.

Children's Ministry Trends
Kidology Report: Book Report - Rock Solid Kids by Larry Fowler

The Kidology Report reviews Larry Fowler's book, Rock Solid Kids, and discusses the need for churches to give "Children's Ministry" back to parents.

Family Ministry
Kidology Report: On Location - Aurora First Assembly of God (Aurora, CO)

The Kidology Report interviews Andrew VanDerLinden, Children's Pastor at Aurora First Assembly of God (Aurora, CO)

Administration
Book Report - Transforming Children into Spiritual Champions by George Barna

The Kidology Report reviews George Barna's book, Transforming Children into Spiritual Champions, and emphasizes the importance of churches catching a vision for kids' ministry.

Children's Ministry Strategy
Book Report - Children's Ministry that Works! by Various Authors

The Kidology Report reviews the book, Children's Ministry that Works!, which gives valuable insight on how to shape a complete ministry by some of the best-known minds in ministry: Jim Wideman, Christine Yount, Craig Jutila, Sue Miller and several others. In a way, this book is the mentor you never had!

Children's Ministry Foundations
Kidology Report: Preteen Ministry and SuperStart!

The Kidology Report focuses on preteen ministry with a hands-on look at the SuperStart! conference.

Preteen Ministry
Book Report - Postmodern Children's Ministry by Ivy Beckwith

The Kidology Report reviews Ivy Beckwith's book, Postmodern Children's Ministry, and provides practical ideas on how to reach this emerging generation.

Postmodern Children's Ministry
Book Report - The Fabulous Reinvention of Sunday School by Aaron Reynolds

The Kidology Report reviews Aaron Reynolds' book, The Fabulous Reinvention of Sunday School, and provides ideas on how to transform your children's ministry.

Reinventing Children's Ministry
Kidology Report: Book Report - Children Matter by Various Authors

The Kidology Report reviews the book, Children Matter, which focuses on the people and relationships of children's ministry, authored by four seminary professors: Scottie May, Beth Posterski, Catherine Stonehouse, and Linda Cannell. It's challenging and refreshing!

Children's Ministry Theory
Kidology Report: Book Report - Crucial Concepts in Kids' Ministry by Randy Christensen

The Kidology Report reviews Randy Christensen's book, Crucial Concepts in Kids' Ministry, which discusses the foundational issues of children's ministry from the ground up.

Children's Ministry Fundamentals
Kidology Report: Book Report - Children's Ministry in the 21st Century by Various Authors

The Kidology Report reviews the book, Children's Ministry in the 21st Century, which focuses upcoming trends shaping children's ministry, authored by Craig Jutila, Jim Wideman, Pat Verbal, and others.

Children's Ministry Trends
Kidology Report: Puppet Ministry: The Wave of the Future?

The Kidology Report focuses on puppet ministry with a hands-on look at One Way Street's I-Fest conference and the future of puppetry.

Puppet Ministry
Kidology Report: Book Report - Volunteers That Stick by Jim Wideman

The Kidology Report reviews the book Volunteers That Stick by Jim Wideman, which focuses building and keeping a solid volunteer ministry team.

Volunteers
Kidology Report: Book Report - Making Your Children's Ministry the Best Hour...

The Kidology Report reviews the book Making Your Children's Ministry the Best Hour of Every Kid's Week by Sue Miller & David Staal, which focuses on setting realistic vision, values, and improvements in your children's ministry.

Improving your Children's Ministry
Kidology Report: Book Report - Lead the Way God Made You by Larry Shallenberger

The Kidology Report reviews the book Lead the Way God Made You by Larry Shallenberger, which focuses on not comparing your leadership style with those of others.

Leadership Style
Kidology Report: Book Report - Planning Church Events With Ease by V. Kerry Inman

The Kidology Report reviews the book Planning Church Events With Ease by V. Kerry Inman, which focuses on planning, preparing, and executing great events.

Event Planning
Kidology Report: Book Report - Simple Church by Thom S. Rainer & Eric Geiger

The Kidology Report reviews the book Simple Church by Thom S. Rainer & Eric Geiger, which focuses on redefining your ministry priorities to four words: Clarity, Movement, Alignment, and Focus.

Redefining ministry priorities
Kidology Report: Book Report - Reveal by Greg Hawkins & Cally Parkinson

The Kidology Report reviews the book Reveal by Greg Hawkins & Cally Parkinson, which helps answer the questions "Am I leading an effective ministry?" and "How would I even know I'm being effective?"

Evaluation, Effectiveness
Kidology Report: Book Report - The 'Faith At Home' series

The Kidology Report reviews the "Faith At Home" series by Mark Holmen, discussing how churches can focus on family ministry and equip the home to be the primary place where faith is nurtured.

Family Ministry
Kidology Report: Book Report - Kid CEO by Ed Young Jr.

The Kidology Report reviews the book Kid CEO by Ed Young Jr., which challenges parents to take back God-given leadership role in their homes.

Parenting, Family Ministry
Kidology Report: Book Report - Children's Ministry Leadership: The You-Can-Do-It Guide

The Kidology Report reviews the book Children's Ministry Leadership: The You-Can-Do-It Guide by Jim Wideman, which provides helpful step-by-step guidance for getting things "up and running" in the world of children's ministry.

Leadership
Kidology Report: Book Report - Who Made the Moon?

The Kidology Report reviews the book Who Made the Moon? A Father Explores How Faith and Science Agree by Sigmund Brouwer, which explores the conflicts between faith and science, while walking through a historical journey on the topics.

Faith and Science
Kidology Report: Book Report - Death by Meeting

The Kidology Report reviews the book Death by Meeting by Patrick Lencioni, explores leading effective meetings, which often lead to vision casting, idea sharing, and momentum changing opportunities in your organization.

Meetings
Kidology Report: Book Report - Nurturing the Leader Within Your Child

The Kidology Report reviews the book Nurturing the Leader Within Your Child by Tim Elmore, explores the idea of building leadership traits in kids.

Leadership
Kidology Report: Book Report - Raising a Modern Day Joseph

The Kidology Report reviews the book Raising a Modern Day Joseph by Larry Fowler, explores the need for a family-based plan of ministry.

Family Ministry
Kidology Report: Book Report - How Churches and Leaders Can Get It and Keep It

The Kidology Report reviews the book How Churches and Leaders Can Get It and Keep It by Craig Groeschel, which explores the need stay focused on your core purpose.

Leadership
Kidology Report: How Does Social Media Impact Kids?

The Kidology Report explores the impact, both positive and negative, of social media on kids and children's ministry

Social Media
Kidology Report: The Culture Debate

The Kidology Report explores the culture of kids as it relates to children's ministry

Culture
Showing 1 - 40 of 40 results