Master Class 04 - Write That Book!
REGISTRATION CLOSES 5pm Today. Our first video conference was today at Noon MT but was recorded. Registration Closed TODAY at 5pm MT.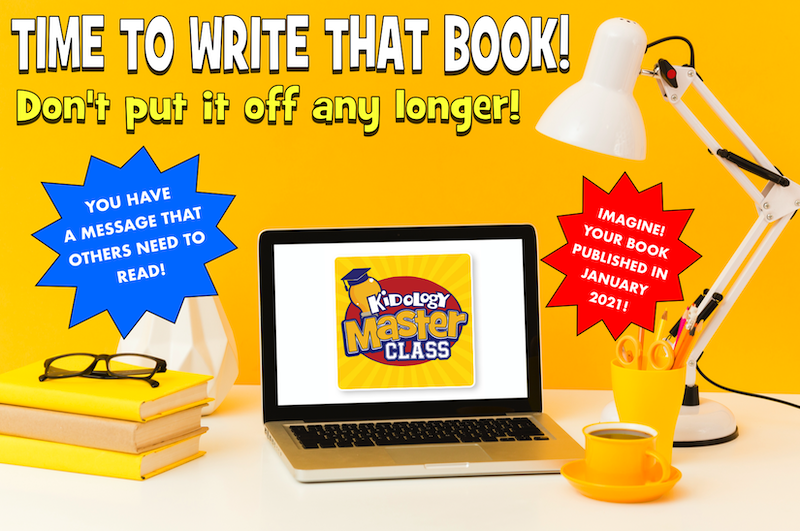 Join Pastor Karl Bastian, founder of Kidology.org,
for a 2-Month Master Class and finally write that book!
September 16th through November 30th, 2020
Author's Master Class
It's Time to Write That Book!
You've always wanted to write a book, right? But you lacked more than just the time - it's the process, the layout, the organizing, the scope and focus and editing, and the cover design, that slow you down or keep you from finishing... or maybe even starting. It's hard to do on your own. But with a coach, you can do it!
NOW IS THE TIME TO WRITE THAT BOOK!
Pastor Karl has been self-publishing for decades and has professionally published articles, books, and complete curricululums. He is often asked, "How do you do it?"
He's finally going to give away his secret to writing and completing a book in months, instead of years, and YOU CAN TOO!
What you'll accomplish:
You will choose your topic.
You will focus and refine it.
You will determine your title/subtitle.
You will outline the book.
You will determine the chapters.
You will design a mock up for the cover.
You will write promotional copy.
YOU WILL WRITE THE BOOK!
You will have readers review it for you.
You will have an editor edit it for you.
YOU WILL PUBLISH YOUR BOOK!
You will impact the world!
You will leave a legacy!
Your mom will be proud of you!
Your kids will brag about you!
Your boss will give you a raise!
You will retire and buy an island!
OK, I'm exaggerating... you get the idea.
But your dream will become a reality.
What Kidology will provide:
Karl will coach you through the process.
A professional designer will create your cover!
Kidology will do a final proofread* of your manuscript
Guidance on attaining a valid ISDN code
Kidology will provide the option to publish †
Kidology will help promote your book †
Karl will write a promotional quote for you to use †
† dependant on topic and approval
*Proofreading is not the same as editing. Copyediting involves reviewing the style and clarity of the writing. Proofreading is a final read-through for spelling, grammar and punctuation. You will need to provide your own editor, or you can hire one through the class at $35 per hour. Copyediting and proofreading are two separate tasks. If proofreading reveals that further editing is needed, the manuscript will be returned for copyediting before proofreading can be resumed.

NOTE: Your book DOES NOT have to be children's ministry related. It can be on any topic of your choice. If it is children's ministry related, Kidology may opt to publish it and sell it, but that is subject to a separate approval process after it is completed, like any other book in our store. But for planning, should your book be for sale in our store, we sell download books at a 50/50 split and print books at 60/40 before shipping costs.
HERE IS A VIDEO OF KARL EXPLAINING IT:
Details of Your Book:
Size: 5.5x8.5 inches
50-60 sheets total (about 95-100 print pages)
Front Cover Included if eBook only
Optional Back Cover/Spine if Print Option Chosen
Included:
Personal mentoring from Karl via phone, text, and video chat, and admittance to a closed Facebook Group for direct access to Karl throughout the course. You get priority help from Karl as you work on your masterpiece!
Four webinars with exclusive training content only available in this course.
Four live Q&A Sessions with Pastor Karl to discuss the content of the webinar as well as discussions on the process of writing your book.
Individualized coaching on the progress of your book.
Optional Additional Expenses Kidology can provide:
Editing* of your book - Kidology can provide this service at $35 an hour (Note: class cost includes proofreading* only)
Back cover and spine, additional $50
Print option, $5 per book, ordered in batches of 50, (plus shipping)
Assistance in attaining a valid ISDN code (Around $25)
If you write a longer book, editing and printing costs will be slightly higher
YOU'LL QUICKLY MAKE BACK YOUR INVESTMENT!
You can sell your book and make back your investment. First of all, you do not need to sell your book. You can use it to build site traffic, gain subscribers, or as a gift to family, friends, and volunteers. It may be a ministry tool you've wanted to complete. Not every book is created for a profit. First and foremost, it is a tool that's created to better others. BUT, if it has value, it can generate income.
We have priced this course strategically. It is not only designed to cover the costs of the class and to compensate the value of the time Karl will invest in his students, but also so that you will honor the investment with your hard work and focused effort to create something you will be PROUD OF when you are done. But we've also wanted to keep the cost low enough that it can be easily recouped through just a few sales. Once you sell just 50 copies of your book, you'll have more than covered the cost of this class, and once you sell 100 copies you'll be on your way to seeing some income generated from your book, not to mention the positive impact your book will be making on the people who read it!
OWNERSHIP: YOU will have complete ownership of your book. All of the content, including the cover design, will be exclusively owned by you, the author. Any changes to this would be in writing during the process of writing and/or publishing your book with your permission and approval in advance.
Your book could be AVAILABLE FOR SALE in January!
Remember, this INCLUDES Professional Front Book Cover and Final Proofreading*!
CLASS STARTS September 16th and runs through November 30th.

ENROLLMENT LIMITED! Karl is limiting the size of this class so he can give personal attention to each student and their book, so don't delay.
BUT PLEASE, don't sign up unless you are serious about writing that book and making a difference in the world!
Cost: $425 - But only $350 for All Access Members!
(Refund Policy: 50% through August 31st, No refunds after Sept. 1st)