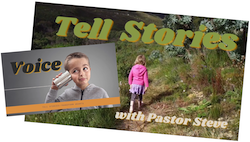 More Details ›
Tell Stories: Voice
Learn to Tell Stories Better using... Voices
Pastor Steve Bourque shares specific insights to help you hone and craft your storytelling skills. Each insight begins with an illustration, followed by a description and inspiration, and concludes with an example or action point.
Video #7 is "Voice"
Clearly your voice is important for telling stories, but have you explored all the ways to use it better? Dive in with this Tell Stories clip.
All Access Members can download this video for free!
Learn more about this video series!
Licensing Info
This resource is a download and is available instantly after purchase by clicking on My Downloads at the top of any page.
---
Related Products