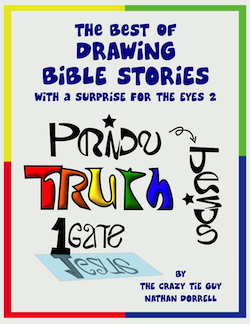 The Best of Drawing Bible Stories with a Surprise for the Eyes
Prepare to learn fun ways to share Bible stories!
It's like magic... with a magic marker. It may look hard, but the secrets are shared to make each drawing a piece of cake even for the non-artist. These amazing object lessons are from the mind of Nathan Dorrell, The Crazy Tie Guy.
Some of the drawings are snippets from his first and second books, but you'll also find some BRAND NEW material that has not been published anywhere else! You're sure to learn new ministry tricks to share Jesus wherever you go!
Get ready! You are about to learn to use God's Word to surprise some eyes!
Bible stories include:
The Woman at the Well (John 4)
Jesus Turns Water to Wine (John 2)
The Blind Man Sees (John 9)
When Jesus Walked on Water
Jesus Calms The Storm (Luke 8:22-25, Mark 4:35-41)
The One Gate to Heaven (John 10:9)
...and many more!
Who is this book for?
Anyone who might want one cool picture that they could use to share the Gospel with a quick doodle.
The person who may or may not be an artist, but like to draw or doodle.
The Sunday School teacher who wants something different every once in a while.
The parent who wants to help with Children's ministry.
The Children's minister who collects unique ways to share and catch kids' attention.
The Youth Minister who wants to surprise the youth with something new.
The pastor or evangelist who needs a touch of creativity in an upcoming message.
The Christian who wonders what they could do for Jesus.
This book may just be for you...because God has a plan for you to use some of the things you will learn from it.
Some of Nathan's amazing visual object lessons are included in our it Bible Curriculum Series Riddle Me This!
---
Related Products