Categories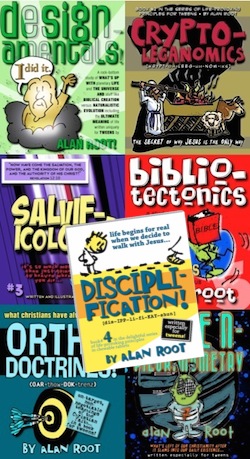 Alan Root's Complete Tween Study Book Collection (PDF Download)
Set of 7 - Designamentals, Cryptoleganomics, Salvificology, Disciplification, Bibliotectonics, Orthodoctrines, & Alienpilgrimometry
Alan Root is basically harmless, although he is taller than he looks on his recordings. Middle age doesn't seem to have fazed him; he continues to write songs and play keyboards, guitars and drums well enough to fool most people. For the last 30+ years, Alan has been traveling the Northern Hemisphere telling kids about the love of Jesus with rock and roll, Biblical teaching, and spontaneous laughter. His music grabs upper elementary age kids and their parents.
His latest offerings are a series of books for tweens. All seven books (pdf's) in the series are offered in this set.
Titles include:
You can see detailed descriptions, and even download samples of each book, by clicking on the above links.
Purchasing this set gives you a Home License for Alan Root's pdf download.
A Home License grants you the right to make copies for use with your family. To purchase a
Church License
, click on each of the above links for more information.
---
Related Products