Categories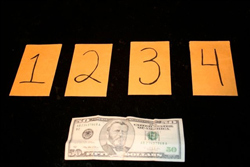 Laflin's The Right Choice Downloadable Video
From David and Teesha Laflin
Ever wonder, "how did they do that?!?" This downloadable video gives you the full explanation for how the trick is done.

Concept: Three volunteers are given a free choice of four numbered envelopes. The remaining envelope is kept by the performer. When the envelopes are opened, it is revealed that the ultimate prize is in the hands of the performer.

Lesson: We do not always know the end result of the choices we make, but when we choose to live for Jesus, we can know we will experience His joy here on earth and eternity with Him in Heaven.

This download resource is available instantly after purchase by clicking on My Downloads at the top of any page.
---
Related Products