Categories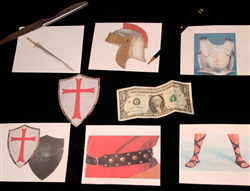 Laflin's Shielded By Faith Downloadable Video
From David and Teesha Laflin
Ever wonder, "how did they do that?!?" This downloadable video gives you the full explanation for how the trick is done.

Concept: A pencil (representing the flaming arrows of the evil one) is repeatedly shoved through a dollar bill (representing our lives). The audience can clearly hear the paper tearing, yet when the bill is displayed at the end, it is shown to be unharmed.

Lesson: The Whole Armor of God

Delivery of your curriculum will be via a secure download link sent by e-mail shortly after purchase. Links expire 7 days after purchase.

---
Related Products