Categories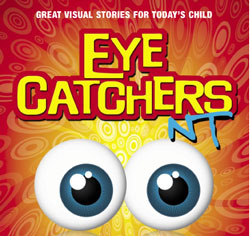 More Details ›
Spot the Difference: Eye Catchers NT
16 New Testament Stories Illustrated with Contemporary Visuals
Spot the Difference is an Australian-based provider of high quality children's ministry resources. Founded by Tammy Tolman, Children's Pastor at Wollongong Church of Christ (New South Wales, Australia), these resources are designed to actively involve children as they learn about God. Kidology is the exclusive United States distributor of Spot the Difference resources.
When ministering to children in the 21st Century, we have to understand the need to teach the Christian message in a relatable way for kids.
Eye Catchers NT
is a compilation of 16 stories from the New Testament ideal for elementary-aged kids. These stories come alive via engaging and contemporary visual aids, highlighting both humor and emotion. In addition, all visual aids within
Eye Catchers NT
are reproducible, allowing you to re-purpose the images into any format that you find effective with the kids in your ministry.
Click
here
for a sample lesson
Stories included:
Sermon on the Mount
The Mission of Jesus
The Persistent Widow
Mary and Elizabeth
The Prodigal Son
Judas and Peter
Jesus on the Cross
The Shepherd
Peter's Messes
People Who Met Jesus
The Holy Spirit Comes
Annanias and Sapphira
Simon the Wizard
Saul's Conversion
Paul and Silas (to Really Live)
The Body of Christ (The Family of God)
Delivery of your curriculum will be via a secure download link sent by e-mail shortly after purchase. Links expire 7 days after purchase.
Spot the Difference: Eye Catchers OT
$22.00
Spot the Difference: Amazing Race Curriculum Download
$65.00
---
Related Products