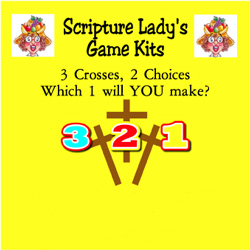 Scripture Lady Three Crosses, Two Choices – Which One Will YOU Make? Game
A Game that Teaches the Importance of the Bible
Choosing to accept Jesus Christ as your Lord and Savior is the most important decision any of us will ever make. Many of our elementary-aged kids
are ready to make this choice. Here is a game to help many children make an educated decision to choose Jesus.

This download resource is available instantly after purchase by clicking on My Downloads at the top of any page.
---
Related Products