Categories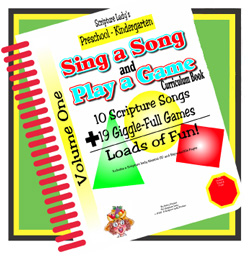 More Details ›
Scripture Lady Sing a Song and Play a Game Book Volume Two
10 Scripture Songs + 19 Giggle-Full Games = Loads of FUN!!
Scripture Lady's
Sing a Song and Play a Game Curriculum Book: Volume Two
was created to dynamically reach the kids that God has placed within your care and leadership. Sharing God's love and His incredible Word is Scripture Lady's number one goal. She is thrilled to pass along to you some very creative, toe-tapping music along with fun games to bless your little ones.
Volume Two (59 pages) includes ten of Scripture Lady's Scripture songs along with 19 games to help them learn and love each of the Bible verses.
Click
here
to view product details.
Delivery of your file will be via a secure download link sent by e-mail shortly after purchase. Links expire 7 days after purchase.
---
Related Products