Categories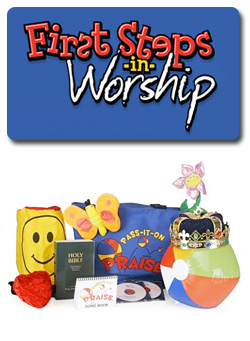 More Details ›
First Steps in Worship Pass It On Praise
For Pre-School Children Ages 4-6
Pass-It-On Praise
is an easy-to-use circle time curriculum that will captivate your preschoolers! Use this 15-minute filler to kick off your class time using God's Word, music and props!
You will be amazed at how easily kids as young as 4-years-old can absorb the six concepts that many adults don't yet know. You class will anticipate using the big blue bag and beach ball as they dive into class time ready to learn!
Includes:
Tote Bag
Demonstration DVD
Song CD
Songbook
Smiley Hat
Butterfly
Flower
Crown
Beach Ball
Watch an informational video.
---
Related Products