Categories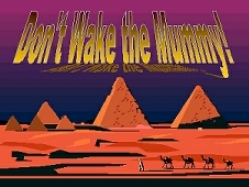 More Details ›
Kidology's Don't Wake The Mummy PowerPoint Game
Kidology's
Don't Wake The Mummy PowerPoint Game
was written to be used for a unit on the life of Joseph. However, it can be used any time you want to help children discover an important lesson phrase in a fun manner. The game allows kids have fun while focusing over and over on the phrase you want to emphasize.
Click here
for description of game play.
Delivery of your PowerPoint Game will be via a secure download link sent by e-mail shortly after purchase. Links expire 7 days from date of purchase.
---
Related Products