Categories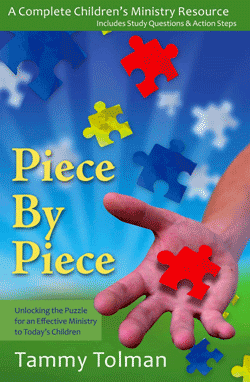 More Details ›
Spot the Difference: Piece by Piece Book
Unlocking the Puzzle for an Effective Ministry to Today's Children
Piece by Piece
Book by Tammy Tolman -
Unlocking the Puzzle for an Effective Ministry to Today's Children
Are you puzzled about how to reach today's children?
Have you thought about what the big picture should look like for children's ministry today?
For too long children's ministry training has been more about "how to tell a great story" or "How to deal with problem behavior" and not enough about piecing together some very key foundations in order for us to be effective.
This book desires to take you "Piece by Piece", through these vital issues in order for you to become more effective in your local ministry.
Click here
for more details.
---
Related Products