Kidmin Talk #025 - April 3, 2012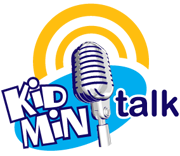 Duration: 00:35:57
Download MP3
Train Me!
Welcome to the twenty-fifth episode of Kidmin Talk, the webcast show hosted by Karl Bastian, the Kidologist. Listen here on Kidology or subscribe via iTunes to listen on-the-go with your iPhone, iPod, iPad, or other mobile device.
SPONSOR: This episode is sponsored by Christian Apps for Kids!

WIN FREE APPS TODAY: The Sounds of the Night and The Lonely Stable
MENTIONED ON THE SHOW TODAY:
TRAINING UP! (Books to give those above you!)
TRAINING IN! (See below)
TRAINING DOWN! (Gotta Listen)
ABC's of KIDOLOGY: The Letter "T" = Training
Teach Others
Read Constantly
Ask Questions
Invest in your Education
Never Stop Learning
Lastly, WHEN is the best time to train volunteers? (I know, they never show up!) After 15 years of ministry, Karl finally discovered the perfect time to do training when all the volunteers would actually show up - and it worked! He just wished he had discovered this secret sooner! When is it? Well, you have to listen to the podcast to discover this amazing secret!)
KIDMIN WINNER! Our winner this week is Danielle Warren. She wins a Kidology Online Training Lab of her choice, OR a free registration and Unit One of Kidology Coaching if she chooses!
WANT TO BE A WINNER? Submit your guess or suggestion for next week's Kidmin Talk Key Word for the letter "U" - by E-mail, Forum, or Twitter.
Earn extra chances to win by promoting @KidminTalk via Twitter! If I see you promote the show, I just might send you a prize! It's been done before already!
Interact with the show by E-mail, Forum, Twitter or the comments below! Let Karl know you are listening!
MUSIC ON THE SHOW: NEEDED
Bumper music by Rob Biagi Music available on Kidology! Booking info at RobBiagi.com
This week featured READ IT! (Beat It!) from Righteous Pop Music (Volume 13) from Creative Ministry Solutions
CONNECTING w/ KIDMIN TALK: