Kidmin Talk #019 - February 22, 2012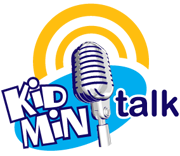 Duration: 00:39:43
Download MP3
Called to Order!
Welcome to the ninteeth episode of Kidmin Talk, the webcast show hosted by Karl Bastian, the Kidologist. Listen here on Kidology or subscribe via iTunes to listen on-the-go with your iPhone, iPod, iPad, or other mobile device.

SPONSOR: This episode is sponsored by NORTHWEST MINISTRY CONFERENCE
MENTIONED ON THE SHOW TODAY:
ABC's of KIDOLOGY: The Letter "O" = ORGANIZATION; or "ORDER"
O = ORDER, Everything with a place and in its place
R = READY, Preparation and Reflection before and after events and meetings
D = DELEGATION, Don't do it all yourself!
E = ENERGY, Focused energy - Give up on the myth of multi-tasking!
R = RELAX! You will never be as organized as you would like to be. Accept the fact that there will always be a Level of Chaos in Children's Ministry, and get comfortable in the middle of it.
KIDMIN WINNER! No winner this week because no one guessed a Kidmin keyword for the letter "O" -- BUT I am taking guesses for the letter "P" in the Show Notes.
WANT TO BE A WINNER? Submit your guess or suggestion for next week's Kidmin Talk Key Word for the letter "P" - by E-mail, Forum, or Twitter.
Earn extra chances to win by promoting @KidminTalk via Twitter! If I see you promote the show, I just might send you a prize! It's been done before already!
MUSIC ON THE SHOW:
This week featured Manic Sunday from Righteous Pop Music Vol. 8.
Bumper music by Rob Biagi Music available on Kidology! Booking info at RobBiagi.com
CONNECTING w/ KIDMIN TALK: