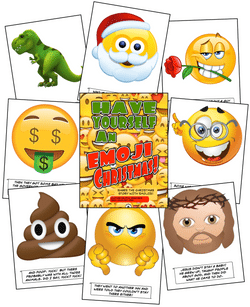 More Details ›
An Emoji Christmas Story
The Christmas Story like it's never been seen before
KIDS LOVE EMOJIS!
So tell the Christmas story with them! Kids will enjoy hearing the Christmas Story told in this unique way.
Emojis portray the different characters that took part in the story of Jesus' birth and the emotions they experienced.
Below each emoji are notes about what is being portrayed. Use these tips as a launching pad to tell the story in your own words!
If you're an All Access Member of Kidology, you can download this story for
free in our zones
!
Not a member yet?
Join today!
This download resource is available instantly after purchase by clicking on My Downloads at the top of any page.
---
Related Products