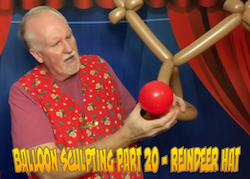 More Details ›
Balloon Sculpting with Pastor Brett - Part 20: Reindeer Hat
Pastor Brett Belleque is the Director of Children's Ministry Resources for InFaith. He is also known as "The Magical Mr. B" one of the most AMAZING Balloon Sculptors you will ever meet!
In this
Balloon Sculpting
series, Brett teaches children's workers how to
sculpt FUN with balloons
!
Episode 20
continues our holiday balloon journey with a fun hat in the shape of a reindeer, complete with a big red nose!
Do you know how to get into a reindeer's house? You ring the deer-bell!
And do you know where reindeer like to eat? Deer-y Queen!
Ok I'll stop! But don't you stop twisting! Have fun with this simple reindeer hat!
See the full list of videos available in this series.
All Access Members can watch this video for free!
Learn more about Brett and this video series!
Licensing Info
This download resource is available instantly after purchase by clicking on My Downloads at the top of any page.
---
Related Products