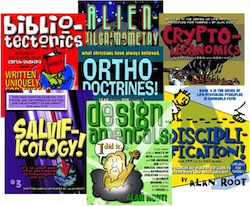 Alan Root's Complete Tween Study Book Collection (PDF Download)
Set of 7 - Designamentals, Cryptoleganomics, Salvificology, Disciplification, Bibliotectonics, Orthodoctrines, & Alienpilgrimometry
These books for tweens are excursions into the basics of our faith: scriptural authority, Divine creation, following Jesus, sound doctrine, the Cross, Salvation, and what happens to our Christianity when it slams into our daily lives. Or as he calls them: Designamentals, Cryptoleganomics, Alienplilgrimometry, Bibliotectonics, Salvificology, Orthodoctrines and Disciplification. OK, now spell those and use them in a sentence...
View individual titles:
You can see detailed descriptions, and even download samples of each book, by clicking on the above links.
Purchasing this set gives you a Home License for Alan Root's pdf download.
A Home License grants you the right to make copies for use with your family. To purchase a
Church License
, click on each of the above links for more information.
Delivery of your books will be via a secure download link sent by e-mail shortly after purchase. Links expire 7 days after purchase.
---
Related Products