Categories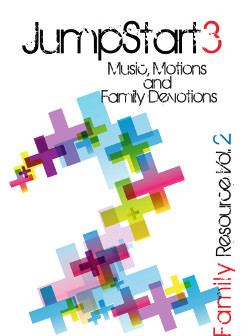 JumpStart3 Family Resource Volume 2
A Complete Worship Experience
The JumpStart3 Family Resource Volume 2
gives families Music, Motions and Family Devotions.
Music - You get an audio CD with 12 songs so you can listen in the car, at home, and on the go and learn scripture.
Motions - You get a DVD with instructions and demonstration so you learn Visually (onscreen lyrics and leaders), Auditorily (music) and Kinesthetically (doing the hand motions).
Family Devotions - You get a DVDrom with printable PDF files with family devotions for each of our verses. This can be used as often as you like but we recommend that you pick 1 evening to meet as a family and enjoy a 20-30 minute worship/devotion time.
Parents are the best teachers and this tool makes it not only easy but fun to discuss and discover what Gods word means and how it fits in our lives.
---
Related Products