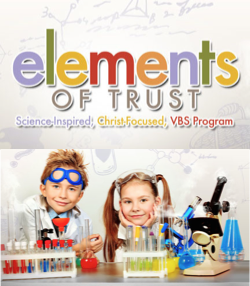 More Details ›
Elements of Trust Science VBS
A Science Inspired, Christ Focused VBS Program
Step into the lab of Science VBS and take a journey with the original Apostles through the ups and downs of the first century church. Discover amazing truths from God's Word about the early church and experience the Elements of T.R.U.S.T. This science-inspired, Christ-focused Vacation Bible School creatively walks through the historical narrative of the first 5 chapters of the book of Acts.

Science VBS is strong on Biblical content, organized for easy implementation, regardless of church size, and reaches the highest levels of kid-engagement using amazing and real science content. Kids do real science as real scientists. Projects include building hovercrafts, making rockets, constructing catapults, and more. Science VBS is high on Biblical Truth and filled with fun and engagement. Order your download of Science VBS today!

Day #1 - Trust (Acts 2:21)
Day #2 - Receive (Acts 3:19)
Day #3 - Understand (Acts 4:12)
Day #4 - Share (Acts 4:32)
Day #5 - Trials (Acts 5:29)

Click here for more details of what is included in your Elements of Trust Science VBS kit! Watch the promo video!


A download link for your Elements of TRUST Science VBS material will come directly from the vendor via email within 24 hours of your purchase.
---
Related Products