Categories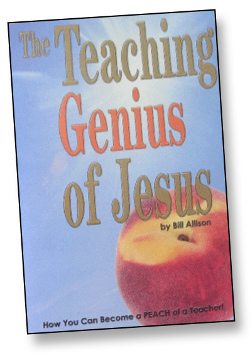 Cadre Ministries The Teaching Genius of Jesus
Written by Bill Allison, Published by Cadre Ministries
This book is an ideal tool for training volunteer youth workers, Sunday school teachers and small group leaders.
The Teaching Genius of Jesus
from Cadre Ministries is a concise study of the teaching genius of the greatest--and most overlooked--teacher ever to grace the planet--JESUS! You'll explore how you can become a P-E-A-C-H of a teacher:
Preparation
Engagement
Authenticity
Challenge
Heart
Each chapter ends with a personal application section for the reader AND discussions questions you can use in your next teachers' meeting! PLUS, you get a FREE bonus chapter titled, "Re-Egineering Your Christian Education Ministry" that includes sample exit goals for each age group in the church.
If the volunteer teachers and small group leaders in your church really applied the teaching genius of Jesus as outlined in the acronym P-E-A-C-H, people inside and outside the church would eventually stop thinking of the local church as one of the most irrelevant and boring places on earth.
---
Related Products