Categories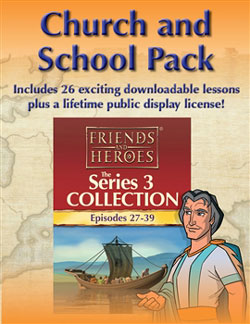 More Details ›
Friends and Heroes Series 3 Church and School Packs
Set of 6 DVD's - 13 Episodes
Friends and Heroes
is the epic animated tale of two young people in the First Century - Macky and Portia - whose idealism and friendship leads them across the ancient world, from the fabled Egyptian port of
Alexandria
, to the besieged city of
Jerusalem
and finally, to the very heart of the Empire:
Rome
. As they fight for justice and even survival against the might of the Roman Empire, they become friends and then, in turn, heroes.
Friends and Heroes
brings the inspiring stories of the Old and New Testament to life! Like our heroes, children will be empowered by what they see and hear, as they share the courage and compassion, and the everyday dangers faced by Macky and his friends.
Series 3
contains episodes 27-39 on six multi-language DVDs in an attractive slipcase and 26 downloadable lessons (two lessons for most episodes) for:
Churches (ages 5-11)
Schools - grades K-2
Schools - grades 3-6
The price of your DVD set includes a lifetime Series 3 public display license. In the
COMMENT section
, please include the individual or organization name for your public display license.
Delivery of your license and instructions on how to download corresponding lessons will arrive via email when your order is shipped.
Click here
for a sample lesson and video and a complete list of themes and objectives for all 39 episodes!
---
Related Products