Categories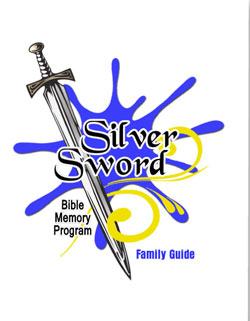 More Details ›
DiscipleZone Resources SilverSword Bible Memory Program for Kids
The
SilverSword Bible Memory Program
was written to help saturate the minds and hearts of children with the Word of God so they will grow strong and healthy as children of God. The
SilverSword Bible Memory Program
will:
Help children to meditate on the Lord and his ways
Help children to understand God's plan of salvation
Give children something to guide them in their prayers
Give children guidance when they face a problem or need direction
Give children a weapon with which to fight temptation
This Scripture memorization program, for children age 2 through 6th grade, can be run as a part of your church's children's ministry or it can be used at home with the whole family participating!
In the
SilverSword Bible Memory Program
kids will master-memorize 95 verses, the Books of the Bible and more by the end of 6th grade. Children may also choose to memorize 41 bonus verses.
Sold in packs of 5.
Click
here
for a note on shipping.
---
Related Products