Categories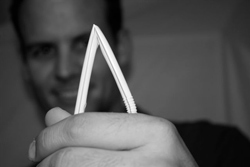 Laflin's Cut and Restrawed Downloadable Video
From David and Teesha Laflin
Ever wonder, "how did they do that?!?" This downloadable video gives you the full explanation for how the trick is done.

Concept: A piece of string is threaded through a straw and is clearly seen to be hanging out of both ends. The straw is then cut in half, apparently cutting the string as well. A moment later both pieces of the straw are seen separately, but the string is now restored.

Lesson: We have all been separated from God because of our sin. Jesus alone was perfect, died for our sins, and rose from the grave. If we accept Him we can be restored to a relationship with God.

This download resource is available instantly after purchase by clicking on My Downloads at the top of any page.
---
Related Products