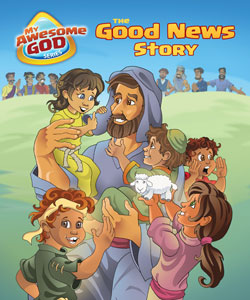 More Details ›
DiscipleLand Good News Story Booklet (set of 50)
Perfect to use within your Church, for VBS or Outreach Event!
The Gospel is the Best News Ever!
With outreach programs like VBS, it is vitally important to help kids realize why Jesus came and what He did for them—the Gospel message. Here's a NEW and creative resource to help your children and families grasp the Good News.
Young children who know Jesus and those who have yet to meet Him need a copy of this 16-page Good News Story booklet. Kids will love these seven beautifully illustrated, easy-to-read Bible stories that walk them through the Gospel.
Use this booklet to share the Gospel with non-believers or to help believing children fully understand the good news—so they in turn can share it with others.
In this unique resource, seven Bible stories help kids understand the significance of the Gospel. Each story is followed by a "Good News" section that features colored-coded hearts and a brief explanation of each truth. Read the stories together and discuss how they relate to God's wonderful plan. The booklet features a "steps-to-salvation" outline which directs kids to specific Bible verses.
7 Bible stories help kids comprehend Christ's sacrifice and embrace His forgiveness.
Each story is faithful to the Biblical text and is crafted to engage children.
Vibrant art, bursting with detail, fills every page.
Tips
to use along with the
Good News Booklet
for sharing the gospel message
Check out these additional offers!!
Click Here for
a set of
10 Good News Booklets
(less than $1.00 per copy)
Click Here for
a set of
100 Good News Booklets
(less than 70¢ per copy)
This product ships in the continental U.S. ONLY
---
Related Products