Categories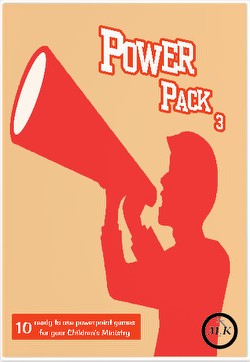 More Details ›
Minister2Kids' Power Pack Volume 3 PowerPoint Games
10 Ready-to-Use PowerPoint Games Plus a BONUS Game!
They've done it one more time!
Minister2Kids'
Power Pack Volume 3 PowerPoint Games
come with amazing graphics and are great for use before, during, and after your children's church service. Containing 10 games, plus a BONUS game, these will definitely bless your socks off!
Created in Microsoft PowerPoint, these games can be used with PowerPoint, or imported into Media Shout, Sunday Plus, or Easy Worship. Don't own any of these programs? No worries... these games work straight out of the box as well!
Titles include:
David & Goliath
Jesus' Death and Resurrection
Jonah's Whale Tale
Numbers In The Bible
OT Stories 1
OT Stories 2
Unscrambler - Men of the Bible
Unscrambler - Women of the Bible
Who Done It? - NT
Who Done It? - OT
BONUS: WEIRD LAWS 2
Take a look at a few
screen shots
of these games!
---
Related Products