Kidmin Talk #101 - September 16th, 2017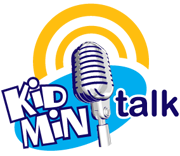 Duration: 00:47:17
Download MP3
Keeping Kids Safe in a Digital Age
Welcome to the 101st episode of Kidmin Talk, the webcast show hosted by Karl Bastian, the Kidologist. Listen here on Kidology or subscribe via iTunes to listen on-the-go with your iPhone, iPod, iPad, or other mobile device.
It's a dangerous digital world for kids. As parents and children's ministry leaders, we need to keep our kids safe. There are many tools available today to keep kids safe. Alex Smith, president of KidCheck and father of five, joins Karl to discuss this topic. Lots of helpful ideas are the result!

SPONSOR: This episode is sponsored by KidCheck, the leader in secure child's check-in.
Hear a past interview in Podcast #38.
MENTIONED ON THE SHOW TODAY:
SHOW NOTES:
Watch the Show via YouTube:
CONNECTING w/ KIDMIN TALK:

Discuss this episode of Kidmin Talk in the Kidology Facebook Group