Kidmin Talk #062 - Nov. 16th, 2013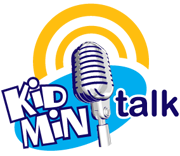 Duration: 00:35:53
Download MP3
Engage God
Welcome to the sixty-second episode of Kidmin Talk, the webcast show hosted by Karl Bastian, the Kidologist. Listen here on Kidology or subscribe via iTunes to listen on-the-go with your iPhone, iPod, iPad, or other mobile device.
SPONSOR: This episode is sponsored by Christmas Clue Hunt

FEATURED MUSIC: Matthew West: Stop the World
MENTIONED ON THE SHOW TODAY:
SHOW NOTES:
Engage With God
Silence
Solitude
Surrender
Because you are merely a Steward
Children's Ministry has gotten complicated!
There is a reason Jesus chose to come in 0 BC.... No FB Page, didn't have to Tweet his best thoughts, Instagram his greatest moments, or Vine His miracles...
When you come to a conference you might secretly be dreading MORE to do or some added expectation...
"What? You don't have a special ministry to kids who have experienced the death of a pet? Have you seen the research on the impact that has on the spiritual development of a child? This is an overlooked group! But luckily there are a bunch of new resources and online destinations to help you target these kids in your community as soon as you get home!"
I don't want to give you more to do - or another thing you should be focusing on. Rather, my goal in this first session is to call you back to something you may have gotten distracted from.
I want to challenge you to Engage God. And give you some practical tips on how.
Silence
Psalm 46:10 NIV
"Be still, and know that I am God; I will be exalted among the nations, I will be exalted in the earth."
How many of you are on Fb right now? Hmmmm? Or have sent out a tweet during the conference?
We are inundated with noise! With incoming messages - e-mail, voice mail, snail mail, memos, netflix and pandora streaming, competing social media networks... and we are adding to to it ourselves, writing, blogging, updating statuses, etc. Not saying it all bad.... But it is constant NOISE.
Proverbs 17:28 NIV
Even a fool is thought wise if he keeps silent, and discerning if he holds his tongue.
Have you learned to practice intentional Silence so you can hear the quiet voice of God?
1 Kings 19:11-13
King James Version (KJV)
And he said, Go forth, and stand upon the mount before the Lord. And, behold, the Lord passed by, and a great and strong wind rent the mountains, and brake in pieces the rocks before the Lord; but the Lord was not in the wind: and after the wind an earthquake; but the Lord was not in the earthquake: And after the earthquake a fire; but the Lord was not in the fire: and after the fire a still small voice. And it was so, when Elijah heard it, that he wrapped his face in his mantle, and went out, and stood in the entering in of the cave. And, behold, there came a voice unto him, and said, What doest thou here, Elijah?
1 Peter 5:6-7 NIV
Humble yourselves, therefore, under God's mighty hand, that he may lift you up in due time. Cast all your anxiety on him because he cares for you.
The best thing for your ministry isn't a new idea or program or product - it is to Engage with God. Do you realize that is more concerned with building YOU than building your ministry? You must Engage God and it starts with Silence. Learning to listen to Him.
Solitude
- Get alone, intentionally plan time with God
Brother Lawrence "Practice the Presence of God"
Surrender
- What does God want for your ministry?
Let go of your OWN AMBITIONS, DREAMS, SECURITY and PLANS and ask God "What do YOU want?"
Because you are merely a Steward
You are not as important as you think you are.
Your church would be fine without you.
Things would not fall apart.
Stress is a sin.
You are only a STEWARD.
A steward sits beside the throne and runs things while the King is away, but he is NOT the King, and the King is still the authority and ruler. Same with us.
Engage With God
Silence
Solitude
Surrender
Because you are merely a Steward
Watch and reflect on what you need to let go of... hold your hands open and palms up as you reflect on Surrender....
WANT TO BE A WINNER? Participate in the Forum Discussion (this show linked below) or contribute to the show by E-mail or Twitter.
Earn extra chances to win by promoting @KidminTalk via Twitter! If I see you promote the show, I just might send you a prize! It's been done before already!
MUSIC ON THE SHOW:
Bumper music by Rob Biagi Music available on Kidology! Booking info at RobBiagi.com
This week featured Stop the Wolrd by Matthew West.
CONNECTING w/ KIDMIN TALK: