Gospel Magic Zone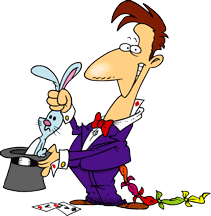 It's no trick teaching kids! But having a trick up your sleeve sure helps!
This zone contains Gospel Magic Tricks, which we like to call "object lessons with a surprise ending!" Obviously, the only 'magic' here are optical illusions! Magic tricks excite and interest kids because it engages their minds and creativity. Have no fear - kids never attribute any 'power' to a magician, they always assume it's 'up their sleeve' or something. It is only smart adults who don't like being fooled who sometimes wonder if there is more to it!
Got a good trick of your own? Don't keep a secret!
‹ Back to Zones
Guest

›
Starter

›
All Access
Level
Title
Topic
Three in One Ropes

A simple rope trick in which you show one rope, make it look like you've cut it into three pieces... and then put it back together again to show one rope. A great way to explain the Trinity.

The Trinity
Trash to Money

There are times in each of our lives in which we feel very ordinary.. But, the amazing thing is that God has given us a new hope. In Isaiah 43, He says not to dwell on the past but instead be ready for new things. God can make an amazing change in our life and help us see extraordinary value in what was once thought to be ordinary.

God Can Take Ordinary to Extraordinary!
What does the Future Hold?

The wonderful Children's Church Object Lesson/Illusion will show your kids that God has a plan for their life. A plan to give them hope, and a future!

God has Plans for YOU!
Showing 51 - 53 of 53 results