Family Zone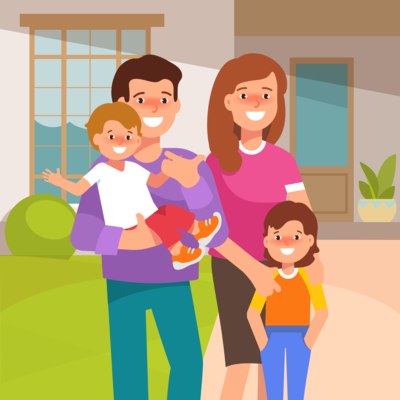 Children's Ministry involves more than just ministry to children. An effective kidmin is also coming along side the Family to help them raise kids to know and love God.
It's time to Partner with Parents!
This Zone contains resources directly for parents as well as for those who are seeking to equip parents in their role of laying a strong biblical foundation for their kids.
Have a helpful Family resource? Please share it!
‹ Back to Zones
Guest

›
Starter

›
All Access
Level
Title
Topic
Who Are These Kids?

Do you know how to connect to today's device- and media-saturated kids?

Connecting with Today's Kids
Secret to Having New Parents Serving Every Week!

Here is a fun positive way to have some parents helping every week in your children's service.

Recruiting Parents
Workshop: Including Family in Children's Ministry

Pastor Karl training leaders on how to include parents in children's ministry. (Recruiting tips too!)

Family Ministry
10 Easy Ways to Partner with Families in Your Ministry

Ten easy steps to help you get started on your goal to partner with families in your church.

Partnering with Parents, Leadership, Equipping
10 Ways to Create Family Memories During the Pandemic

You are being gifted quality time with your family. Don't waste it.

Family Fun
29 Ways to Do Ministry When Church is Cancelled

You don't have to be in a church to do ministry.

Church Ministry
3 Parenting Fears and How to Face Them

"What are you most afraid of as a parent?" This question evokes fear and uncertainty in many parents. How can you move from fear to rest and trust?

Family, Parenting, Fear
3 Reasons Why Kids Need Systematic Theology

Times have changed. As children's pastors and parents, we need to realize that our kids need more than what we're teaching.

Theology, Teaching, Culture
5 Shifts Parents Need to Make in LGBTQ America

As Christians, how should we respond to losing battles in our culture war?

Social Issues, Parenting
5 Things to Remember During a KidMin Christmas

Discover ways to stay sane during the holidays and throughout the year.

Christmas, Events, Family
7 Ways to Create Family Connections

In our modern society, it's getting harder and harder to connect with family members. Choose to be intentional and start with these suggestions.

Family, Connecting
Adoption: The Very Heart of Our Father

The bond between a parent and a child is not just biological. It's a heart bond.

Adoption
An Open House Policy

Here are some ideas that may help you create an 'open house' policy with your family.

Create a Welcoming Home
Biblical Boredom Busters

Try these activities when your kids say they're bored.

Games, Boredom Busters
Bringing Families Together

There's a reason why some families would choose to skip church for sports or other activities. The church needs to learn how to bring families together.

Families, Programming
Creative Easter Egg Hunt Ideas

Have fun this Easter by changing up your egg hunt!

Easter, Games
Develop: Leveraging Transformational Moments

Development as a dynamic system [is] a perpetually ongoing process, extending from conception to death, that is molded by a complex network of biological, psychological, and social influences. ~ Laura E. Berk "Jesus became wiser and stronger. He also became more and more pleasing to God and to people." (Luke 2:52) p.p1 {margin: 0.0px 0.0px 11.7px 0.0px; text-align: justify; line-height: 15.0px; font: 12.0px 'Lucida Grande'; -webkit-text-stroke: #000000} span.s1 {font-kerning: none}

Teaching Tips, Teachable Moments
Digital Detox: Helping Kids Get a Balance on Screen Time

Tech screens are everywhere. How do you know when it's time for a digital detox?

Technology
Discipleship Ideas for Divorced and Single Parents

When discipleship is the strategy, Deuteronomy 6:6-8 can be a reality, even for single and divorced parents.

Divorce, Discipleship, Single Parents
Does your church disciple single dads?

How does your church disciple the single dads in your community?

Divorce Care
Family Activities in the Time of Social Distancing

Here are a few things to remember and a few ideas to try during these next few weeks of home isolation.

Family Fun
Family Christmas Devotional Bags

Equip your parents with devotionals for the Christmas season.

Christmas, Devotions, Family
Fishnet Bible Stories for Kids

Video based readers that rhyme - try at home or at church.

Videos for Kids
Four Steps to Form a New Habit

Form healthy habits with your family now so you can enjoy long term results.

Healthy Habits
Gaming Addiction and Kids of Divorce

Excessive use of video games can become a trap (an addiction) kids get caught in as they try to escape their emotional turmoil.

Divorce, Addiction
Helping a mean or hurtful child

Children often respond to trauma by lashing out in anger. Linda Jacobs from Divorce Care for Kids recommends the use of the "grace card" to help a child heal.

Divorce, Dealing with Anger, Grace, Discipline
Helping Your Kids Memorize Scripture

Do you struggle with finding easy ways for your kids to memorize scripture? Whether at home or at church, these tips can help children of all learning styles painlessly remember their verses.

Bible Memorization
How I Turned My Ministry into a Family Ministry

When the church and the home are working together, we will have more success in making disciples of our kids.

Family Ministry
How Important Is It... That We Teach the Gospel to Kids?
Gospel Training
How to Leave Your Kids Something of Value
Leaving a Legacy
How to Partner with Parents

Suggestions for how you can be prepared to partner with parents.

Partnering with Parents
How to Talk to Your Kids About Scary Events in the News

Mr. Rogers gives great advice on how to talk to kids about scary events in the news.

Communication, Parenting, Fear
How to Unplug and Engage with Your Family

Hear tips on how to stay connected to those you love.

Family
Is it True?

We have a generation that is ruled by their emotional response to any given situation, yet they have failed to stop and ask, "Is this true?"

Objective Truth
Is there a difference between a broken home and a single parent family?

You might question if there is a big difference between broken homes and single-parent homes.

Divorce Care
Leading Your Family with Focus

Throughout Scripture, God calls parents to take seriously the spiritual leadership of their children. Here are three key areas of family life where you can show significant spiritual leadership.

Parenting, Family Ministry
Looking For Advent Resources For Your Family?

Advent Resources for Parents

Advent, Christmas
Making Space for Parents in Kidmin

A few keys to incorparating a healthy family ministry into your church.

Family Ministry
Mom, I'm Bored...

When your kids say they're bored, maybe you should let them be.

Overcoming Boredom
My Money Plan

When is the last time you taught your church children how to write a money plan/budget?

A worksheet teaching kids how to budget
No More Making Time for Family

Why I will NEVER make time for my family ever again!

Family
Nurturing the Childish Out of Leadership

When you look at a strong-willed child, do you ever think, "That's great leadership potential! All you have to do is nurture it!"

Leadership, Parenting, Strong-willed Child
Parents, What Message are You Preaching to Your Kids?

Do your kids understand the relentlessness of God?

God's Relentlessness
Protecting Girls in a #MeToo World

How do we protect our girls in a sex-saturated culture?

Parenting, Relationships
Raising Boys in a #MeToo World

How can we raise our boys to respect women in a sex-saturated culture.

Parenting, Relationships
Should I Let My Teenager Date?

Friendship with others starts with understanding whose we are.

Dating, Teens
Stewards of the Story

How do we best preserve God's story through the generations?

Stewardship, God's Story
Summer is Here, Now What?

Here is some practical biblical help to support you in getting your kids to help with chores over the summer - even providing a FREE downloadable "Summer Chores Chart!"

Kids and Chores
The 3 S's That Can Trigger Unexpected Emotions and Memories at Christmas

Help children of divorce better cope with the holidays by being aware of the things they may be missing this Christmas.

Christmas, Divorce, Parenting
The Big Lie Evangelicals Tell Christian Parents

Proverbs 22:6 is an important Scripture, but does it provide a guarantee for parents that training kids "in the way they should go" will result in children not departing from their faith?

Parenting, Discipline, Salvation by Grace
Showing 1 - 50 of 68 results